This post may contain affiliate links. Read my disclosure policy here.
A book set in New York City featuring academic types (at the fictional "Manhattan U")? About a group of women friends? Do I need anything more in a novel?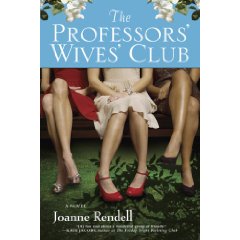 The Professors' Wives' Club by Joanne Rendell features four women of different ages and from different backgrounds who come together to fight for a common cause, and in the process help each other to grow. I think that their differences work for them — allowing them to accept the others at face value, instead of who they are "supposed" to be.
All of the women live together in the same campus apartment building. They each use the beautiful walled garden as a kind of retreat, and they come together rallying to protect it when it's threatened to be destroyed.
Mary is the oldest in the group. She's a professor herself, and married to the dean who is planning to destroy the green space. She's been trying to find the courage to escape from her abusive husband, but something keeps holding her back.
Hannah is a former model who is dissatisfied with her marriage and disappointed with a choice she made in an effort to find love. She is trying to break away from the model image and break into the art world, but without her husband's support, she is finding it difficult.
Sofia has a supportive husband, but she still feels as if she's lost herself in the whirlwind of motherhood with two young children. She serves as the heartbeat of the group as she taps into her natural skills and proclivities.
Ashleigh is the youngest of the group — an attorney on the way up the career ladder, but still living in the shadow of her successful and overbearing father. As she seeks to break free, she wonders how she can be true to herself without disappointing him.
It sounds like typical chick lit, but the story definitely has some surprising moments. I found myself analyzing the women and rooting for them (even as I sometimes wondered what the "right" choice for them really was). Sometimes heavy topics are written without bogging the reader down, and within context of a good old fashioned caper as the four women bind together to defeat the evil giant.
We have five copies to give away! If you'd like to win one, please leave a comment. We'll announce the winners in next week's column.
The winners of What Happy Parents Do are
#2 Moriah@Please Pass the Salt
#58 K. Cleaver
#113 Corrie C.