This post may contain affiliate links. Read my disclosure policy here.
"Big trouble," I say to Terry raising my eyebrows.
He grins, "Yeah, I know," he acknowledges.
Terry had left the garage door open on a night that was below freezing (because of the way we park our cars, we have to close it once he's already in the house). Not only does that make our morning commute a little chilly as we wait for our cars to heat up, but as we had learned from my unfortunate mistake earlier that month, it can freeze the pipes to our kitchen that run through the garage.
See — I am the designated mistake-maker in the house. You know, the one who forgets to pay the bill that's due. Or runs out of checks so that no one can pay any bills until we receive our rush-delivery re-order. The one who dings up the cars, and the one who leaves the garage open and freezes the pipes.
However, because I am a stay-at-home mom, I'm also the one who deals with these problems: putting space heaters in the (now-closed) garage to thaw out the pipes, taking the car to the shop for repairs, and delivering last-minute payments.
Terry is very understanding and supportive, but the difference in our personalities gets to him sometimes when my careless errors happen in close proximity, or if he just happens to be in a bad mood. It makes me feel like the bad teenager.
On the rare occasions when Terry made the kind of mistake that resulted in a financial or time inconvenience for us, I would remain calm as I reminded him, "You know, if I had done the same thing, I would be in big trouble." Now years later, the code has gotten shortened to those two words. Either of us can utter "big trouble," and it diffuses any frustration that either of us might be feeling.
Using humor, and specifically code words to remind us of certain situations, is one of our "loving rituals" that keeps us close and connected.
What Happy Parents Do by Carol Bruess and Anna Kudak is full of "The Loving Rituals of a Child-Proof Marriage."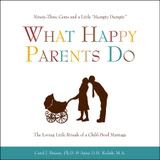 When I first received it, I thought I thought it was like a little greeting card shop sort of book — pretty, colorful, but sort of fluffy. As I read it, I found out I was wrong. Yes, it's pretty, with a colorful cover and interior pages as well. Yes, it comes with a yellow ribbon bookmark, perfect for marking your place as you page through it, and yes, it would make a perfect little gift, but I did not find it fluffy at all.
In fact, it's not the sort of thing that I could read in one sitting. This book contains 50 ideas and stories from 50 parents about that little something that keeps them focused on their marriage in the midst of raising their children. Then the authors make an application from that story that each of us can use in our marriages.
For example, one couple shares that they both share a love of fine coffee, and whenever they are indulging (less frequently than in pre-kid days), the wife will think "We're real people again. I'm drinking coffee with a grown-up that I'm married to!" Then the authors challenge us to make an effort to do the little things that make us feel good, that will then cause the goodness to spill back out to our children.
As I said, this would make a great new baby gift, for parents of a first or a fourth child. It's the kind of book that would look great on a bedside table, or even in the baby's room — allowing you and your partner to read and discuss an idea or two anytime you have a few minutes.
The beauty of this book is not in the originality of the ideas, but in the sense of community that it engenders. Once we become parents, we often lose our sense of couple-ness, but reading these stories reminds us of others who are as overwhelmed and disconnected as we are, or who are fighting that inevitability as hard as they can!
Would you like to win one of three copies of What Happy Parents Do? Leave a comment here. If you'd like, tell us one of your loving little rituals.
The first 5 Minutes for Books newsletter is coming out this week. Don't miss it. Sign up now.
The five winners of last week's book, Taking Care of Your Girls, are:

#77 Heather C.
#31 Michael Capp
#37 Denise
#9 Green Jello
#25 Jenn S.