This post may contain affiliate links. Read my disclosure policy here.
Ten years ago today, I was home with my three little ones. My husband was driving in to work…in the center of Washington DC. I was cleaning up after breakfast and listening to the radio when the first reports of planes hitting the World Trade Center started coming in.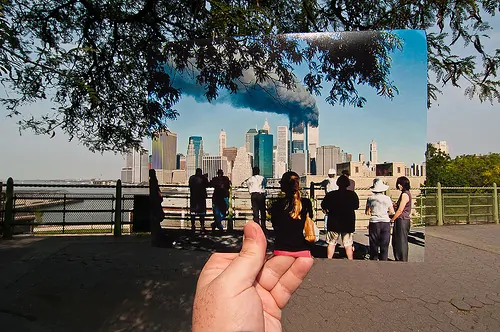 I couldn't comprehend the magnitude of what was happening to our world that morning as I stopped my cleaning to listen to the news reports. As the news became more and more grim regarding New York City, I hugged my kids closer to me, unable to pull myself away from the radio.
When I heard that the Pentagon had also been hit, I immediately thought of my husband, who would have been driving close to the Pentagon to get to work. I didn't know if he was safe, if he was coming home, or when I'd be able to talk to him.
Before he made it home (it took him hours to navigate the traffic), I heard an unfamiliar noise outside my house. For the rest of the day, and into the evening, the sounds of fighter jets circling the skies above my neighborhood haunted me. We just happen to live in the flight path between Washington DC and Camp David. The sight and sounds of the jets did not bring me any comfort.
My son was born in early 2001 and his birthday, though not in September, reminds me each year of that fateful day in September 2001 when terrorists tried to break our country. When my son turned 10 this year, I could not believe that 10 years had passed since the terrorist attacks of 9-11.
Today we remember 9-11. But I chose not to remember the fear, the confusion, the anger. Instead, I am remembering the courage shown, the compassion, the sacrifice, and the pride.
"If we learn nothing else from this tragedy, we learn that life is short and there is no time for hate."

~ Sandy Dahl, wife of Flight 93 pilot Jason Dahl
How do you remember September 11?
Often, on holidays we open up a linky to share our posts and pictures. Today is not a holiday, but it IS a day of remembrance, and we would appreciate hearing everyone's stories and reflections on what September 11 means to you. Please keep your posts respectful. Thanks!
Written by 5 Minutes for Mom managing editor Lolli. You can find me blogging at Better in Bulk and tweeting at @1momof5.
The World Trade Center photo is part of a "Looking into the Past" series by Jason E. Powell on flickr (creative commons). It is a fascinating series of photos looking back on 9-11.