This post may contain affiliate links. Read my disclosure policy here.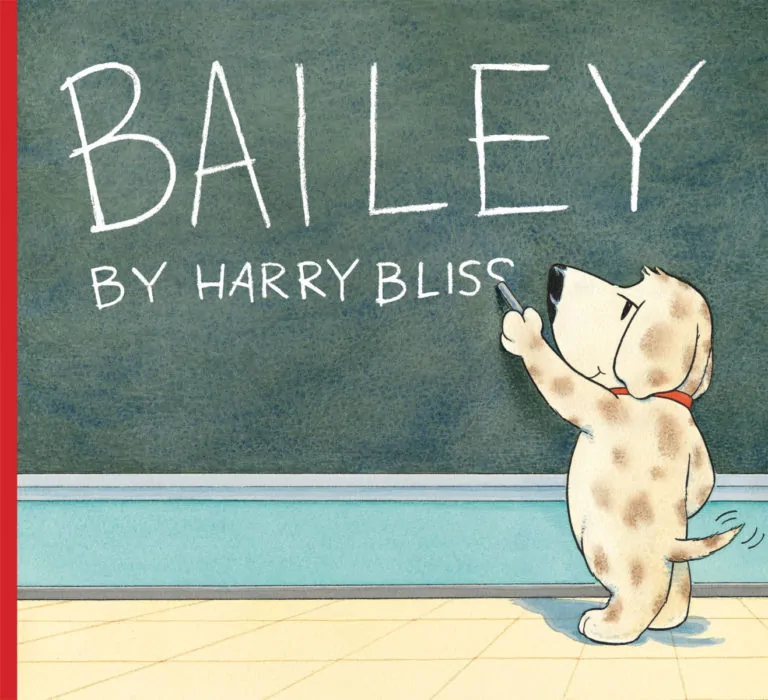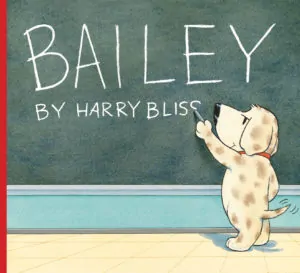 It's back to school time for kids of all ages, and in Bailey, a fun new picture book from Harry Bliss, the kids at Champlain Elementary School are joined by a furry friend.
Meet Bailey, a dog who surprises and charms his fellow human classmates with his irrepressible antics. In this funny new book from the bestselling children's illustrator Harry Bliss, school proves to be an unexpected place for Bailey to do all sorts of things he loves: reading, fetching, painting, digging, singing — and making friends!
From chasing the bus in the morning (because he was running late) to chewed up homework (the dog ate his own!), Bailey's school adventures are funny, and what young child wouldn't love to have an adorable canine classmate like him? Math, art, lunch and recess are among his favorite times of day, which no doubt will be something many kids can relate to. Short lines of text move the story along, but the details are in the "speech bubbles" that appear in all the illustrations. The inner thoughts of some children are shown, as well as the conversations that are had by the students and teachers at school, and it's clear that Bailey has a great impact upon this school community! Harry Bliss's humor shines here, guaranteeing giggles from the children who hear or read it. Attention teachers, this picture book will definitely make for a great read aloud option during this time of year!
Want to see Bailey in action? Check out the cute short book trailer:
Feeling dog-gone lucky? We're happy to have three chances for you to win a copy of Bailey by Harry Bliss, along with a $25 Visa Gift Card, perfect for last minute school supply shopping. Please leave a comment here to be entered, U.S. mailing addresses only. We will announce our winners on September 26.
The winner of Where You Left Me is #29, Natalie Krusemeier.
5 Minutes for Books staff reviewer Dawn is experiencing her own back to school fun these days, with her return to teaching preschool. Sadly, there are no canine members of her class. She does still strive to blog again someday at my thoughts exactly, once she gets this full-time work thing down again.