This post may contain affiliate links. Read my disclosure policy here.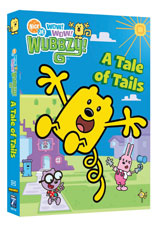 Cool enough for six-year-old Jackson and cute enough for three-year-old Julia, Wow Wow Wubbzy from Nick Jr. is a hit with our kids!
But it takes more than colorful characters to win me over — so I was curious to test out this little yellow creature and see if I approved of his show and his books.
When the Wow Wow Wubbzy package arrived, Jackson grabbed the DVD and begged to watch it right away. So we cozied up on the couch to get to know Wubbzy.
Both Jackson and I were impressed with Wubbzy. He and his pals were fun and lovable and had Jackson laughing out loud. But with important messages such as accepting one another, honesty and friendship, Wubbzy passed my tests too.
After we watched the video, we pulled out the two Wubbzy books. One-year-old Olivia liked the board book It's Wubbzy – especially the button that introduces Wubbzy with his cartoon voice – and Jackson loved the A Tale of Tails story book that followed the storyline from one of the episodes on the DVD.
The familiarity of the words and the story line from the TV show made it easier for Jackson as he practiced his reading skills.
When we brought the books and DVD to Julia's house, Julia got right into the Wubbzy action too! Wubbzy was cute enough to win over her fickle three-year-old heart.
I find using books that feature TV characters can be a real plus when trying to get kids excited about reading. Yes, in a way it feels like selling out — but the more I think about it, the more I realize that if the familiarity of a character draws a child into reading, then great. At least they are reading!
Today, at 5 Minutes for Books, Jenny writes an excellent post about her journey from dismissing to embracing TV tie in books for children.
What do you think about books based on TV shows for kids? Head over and join the conversation at 5 Minutes for Books.
Three commenters at 5 Minutes for Books will win Wow Wow Wubbzy prize packs.
And of course – we have some prize packs for you too!
Each Wow Wow Wubbzy prize pack includes A Tale of Tails DVD, (which is available in stores September 23rd,) two books – A Tale of Tails and It's Wubbzy, and a stuffed Wubbzy doll.
We will draw TEN winners on October 4th.
If you want to be one of those winners, just leave a comment here at this post. This contest is open to both Canadian and US shipping addresses.
And don't forget, if you jump over to 5 Minutes for Books, you can enter their Wubbzy contest for more chances to win.
Also, here are some coloring sheets for your children to enjoy today. Click on each thumbnail below to open the pdf coloring sheets.