This post may contain affiliate links. Read my disclosure policy here.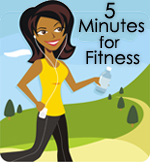 My toddler is a sprinter. I bring him outside and he runs, and runs, and runs, and then runs some more. Occasionally he'll take a quick break to examine a bug or to say "hi!" to a dog in a yard.
Very rarely does he ever ASK to stop running. Running gives him a sense of freedom. He cruises down the sidewalk without a care in the world, squealing with excitement the entire time. Does he care what others think of him? Of course not! He is running because it makes him feel good.
So what can we learn from this?
Running is FUN! Take a cue from your kids and just get outside to run. You don't have to buy any special equipment or clothing, (aside from quality shoes), and you can do it right outside your home. Don't worry about how far or fast you are running, just get out there and do it! (Squealing is optional)
When you need a break, just stop to examine a bug or two. 🙂