This post may contain affiliate links. Read my disclosure policy here.
Swimsuit Confidence Week starts Today!
It can be hard to stay confident in an itty-bitty, made-for-supermodels bathing suit.
But thank goodness for Lands' End swimsuits!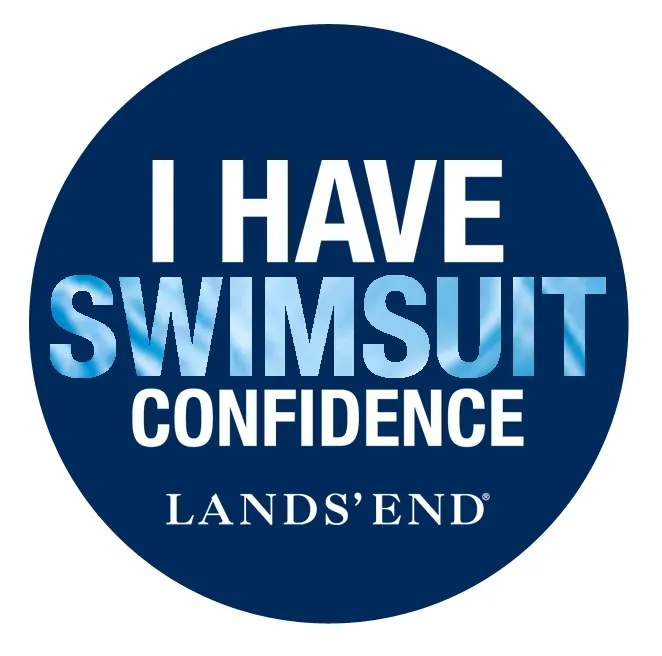 Janice and I have been in love with Lands' End swimsuits for years. I've bought several myself and also reviewed a couple different styles. I can honestly say I can't imagine buying a swimsuit anywhere else. I'm completely hooked on the figure-flattering styles and fabrics of these suits.
I had such confidence wearing one of my Lands' End suits, I even wore it during a video shoot for Disney. And a couple years ago in Hawaii, I wore one of my first Lands' End suits almost daily to the beach… and I even got away with eating dinner at the Cheesecake Factory still in my swimsuit!
Janice and I want to say, "Thanks to Lands' End, we have Swimsuit Confidence!"
We both tried on a new Lands' End 2011 swimsuit and went outside in the cold to show off our swimsuit confidence. (Our neighbors were rather confused.)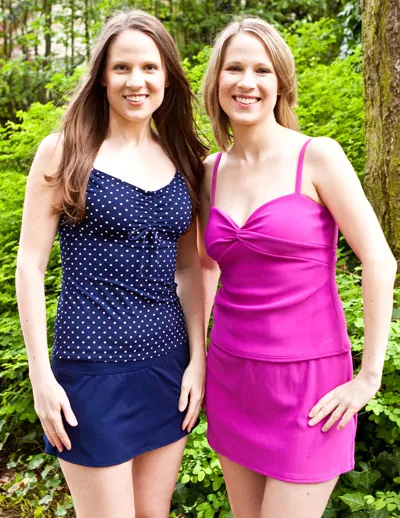 WIN a $100 Lands' End Gift Card
Do you have swimsuit confidence?!?
Publish a photo of yourself in a swimsuit on your blog and leave us a comment here sharing your link. On Saturday, May 28, we will select one lucky winner to receive a $100 Lands' End Gift Card to use for a new Lands' End swimsuit.
UPDATE: EXTENDED until Friday, June 4th.
(Also send your post link to [email protected] as I think that may give you even more chances to win.)
The Party Lasts All Week with Lots of Ways to WIN!
We're co-hosting the kick off Twitter Party on Monday, May 23rd!
Join Lands' End each day May 23 – 27, 2011 from 12:00 – 1:00 p.m. CDST and participate in a series of National Swimsuit Confidence Week events on Twitter. The week-long movement was created to celebrate women of all shapes and sizes as well as educate and inspire them to embrace their swimsuit beauty and have fun this summer. Each day Lands' End will give away 10 Lands' End Swimsuits, 10 Lands' End Beach Towels and announce exclusive swimsuit promotions!
Date: Each Day (Monday through Friday) May 23 – 27, 2011
Time: 12:00 p.m. – 1:00 p.m. CDST
Location: #landsend
Follow: @LandsEndPR
5 Minutes for Mom is going to be kicking off National Swimsuit Confidence Week on Monday by co-hosting the Twitter event and would love for all of our readers to join us!
Date Topic Participants

5/23 Swimsuit Coverage @LandsEndPR, @5minutesformom

5/24 Swimsuit Trends for Real Women @LandsEndPR, @MomSpark

5/25 Swim Slenderizers @LandsEndPR, @CurvyGirlGuide

5/26 Bring Your Confidence to the Beach @LandsEndPR, @bookieboo

5/27 Ultimate Swimsuit– Confidence Celebration @LandsEndPR, @MomTalkRadio
To join the movement (and for your chance to win)
Get the Twibbon – Go to http://twb.ly/j2GmLn and display the "I have swimsuit confidence!" Twibbon on your Twitter profile photo.
Send a tweet to @LandsEndPR proclaiming "I have swimsuit confidence!" #landsend for a chance to be entered to win a $500 Lands' End gift card.
Tweet now through May 27.
Lands' End will announce their $500 gift card winner at 5:00 p.m. CDST on May 27, 2011. We'll announce our $100 Gift Card winner on Saturday, May 28.
UPDATE: Our Giveaway is EXTENDED and we'll announce our winner on Friday, June 4th.
Written by Susan Carraretto, co-founder of the mom blog, 5 Minutes for Mom.com, and lover of Twitter (@5minutesformom) and Facebook (/5minutesformom).
Disclosure: We are working on a paid campaign with Lands' End to promote this Swimsuit Confidence program.