This post may contain affiliate links. Read my disclosure policy here.
When my son was around a year old, my husband and I waited in anticipation for his first steps. And when that day finally came, we were thrilled, to say the least. But it didn't take long for our little guy to realize that walking took effort, while crawling could get him to his destination quickly and easily. So although he could walk, our son refused to.
We would stand him up on his feet and coax him over to us, and he would just look at us with his adorable baby grin, drop to his knees and crawl.
I must admit, I did get frustrated and impatient. I wanted to see my little guy walk and run and I knew he could do it. He did finally give in. And of course now he is running around all over the place.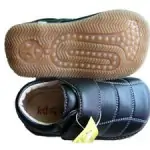 Last month I received a pair of Squeaky Feet Kids Shoes to try out on my son. These clever shoes come with a removable squeaker in the heel. The fun sound encourages crawlers to walk and also teaches young ones to walk the proper way, as the squeak won't work if they are walking on their toes, instead of their heels.
My son was excited to put on his new shoes. It did take him a few minutes to realize that the squeaking he was hearing was occurring with each one of his steps. But once he did, I wish you could have seen the joy in his face, as he began walking, running and dancing all over the house. For about twenty-five minutes he just stepped, squeaked and giggled. He had such fun.
I realized then, that these shoes would have been wonderful to have had on hand back when we were trying to get him to walk. I really believe that if he had had the Squeaky Feet Kids Shoes on his feet, he would have started walking a lot sooner.
And now that he is running all over the place, the squeak comes in handy, allowing me to hear him throughout the house.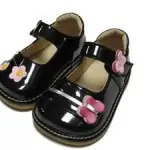 Whether you are looking for sandals, sneakers, slip-ons or Mary-Janes, the Squeaky Feet Kids shoes come in a large variety of styles. They can also be found ready to order in sizes 4-8. Sizes 9-12 can be specially ordered for you, if need be.
This August, a new line of music sneakers will be released in Spiderman, Mickey Mouse, and Minnie Mouse themes, which will be sure to get your little ones off of their knees and onto their feet.
If you would like to win a pair of Squeaky Feet Kids Shoes for your little one, please leave a comment below. We will be giving away a pair to a pair of you. We will announce the winners on August 12th.