This post may contain affiliate links. Read my disclosure policy here.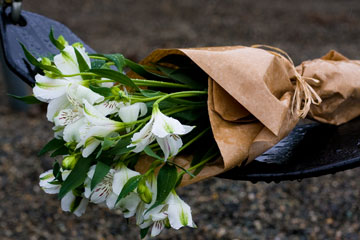 This afternoon, when I picked up Jackson from bike camp, I brought my camera. But I wasn't planning on taking pictures of him. No, I was on a much different kind of photographic mission.
With my camera, I was joining with other women around the blogosphere in a memorial for a special little boy named Evan, who died suddenly and unexpectedly just a few days after his mother Vicki returned from BlogHer.
As the rain soaked us and our little bouquet of flowers, Jackson kept asking me about this little boy we were remembering. "Why did he die?" Jackson wanted to know. But I couldn't answer too many of his questions. I only know what I have read online.
But what I have learned about little Evan and his loving mother is enough to make me want to honor his life and try to comfort his family.
It is what we mom bloggers do. When tragedy strikes the mom blogosphere, it feels as though it is happening in our inner circle and we respond sending as much support as we can. So today, bloggers are rallying around fellow mom blogger, Vicki, and her family, as they mourn the loss of their son, Evan.
In honor of Evan, bloggers are posting special photos of flowers laid on swings and gathering them together in a Flickr Group. And for Evan, who had a love of swinging, this is such a great way to honor his life.
"Evan laughs and giggles and with each wide arc of the swing, his smile grows ever larger. The mother next to me smiles herself and says, "Boy, he really loves that, doesn't he? I mean, kids just love to swing, don't they?"

Yes, I think, kids do love to swing. But the reason my son loves to swing isn't the same reason her daughter, in the swing next to us, loves to swing. My son loves to swing because he is blind and non-verbal, because he has what is termed "sensory integration dysfunction" and requires enhanced "vestibular input." Swinging gives my son the kind of stimulation other kids, those who can see and talk and run and ride a bike, get by simply being and doing.
And, yes, he also loves to swing because all children love to swing."

– Vicki Foreman The Mother at the Swings
You can read more about little Evan and his family over at 5 Minutes for Special Needs.
And you can see more posts dedicated to Evan at Pinwheels, Whitterer on Autism, MOM – Not Otherwise Specified, Maternal Instincts, Squidalicious, and Autism Vox.
Please also join us in honoring little Evan by submitting a photo of flowers on a swing.