This post may contain affiliate links. Read my disclosure policy here.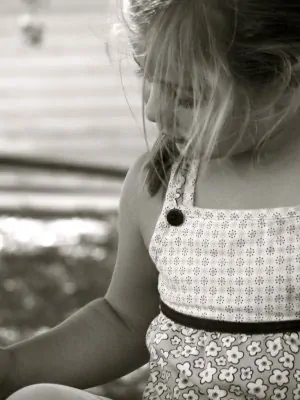 Five years ago, a mom blogger named Kari lived through a nightmare most parents would never even dream about — her not-yet-three year old daughter was accidentally run over by her father as he mowed the lawn…
"One evening Joel came home to the responsibility of mowing the 3 acres of land that was in our care. After dinner I left for a class and Joel continued the job of mowing. The details of that night from what I have learned were a series of innocent circumstances that led to an agonizing accident that has left us all changed in every way.

After giving the cherubs 'mower-rides', he instructed them to play in the yard at a safe distance from where he was finishing the mowing. From what we can tell, Chloe ran up to Joel to ask for a drink of water just as he was reversing the mower. Joel never saw her until it was too late…

…Chloe was flown to Johns Hopkins Hospital for treatment and care. My parents drove me down to meet Joel in the waiting room. Hours later the surgeon would give us the news that tried as they did, they were unable to save her foot.

In order to give Chloe a better chance at walking normally, they would have to amputate her foot. This news robbed me of breath and rocked my soul to the core. I couldn't imagine that this was really happening to my baby, it had to be a terrible dream that I couldn't wake up from…"

Kari had shared more of Chloe's Story on her blog, but it is no longer online.
This spring, as families start their lawn mowers, Kari says she feels compelled to warn others of the danger of allowing children remotely near lawn mowers of any kind. Kari wrote in a recent post on her blog, "…giving your child a ride on a lawn mower is NOT a "fun family thing" to do, it is highly dangerous and has such a great potential to do severe damage. For your children's sake, PLEASE teach them proper safety measures when it comes to lawn mowers. And please pass it on to your friends and family."
Since we only have a small house and a push lawn mover, I haven't thought much about lawn mower safety as a parent. So I am so grateful to Kari for sharing her family's story!
I did not know that lawn mower-related injuries account for more than 51% of traumatic amputations among children! Major limb loss is most commonly caused by lawn mowers for children under the age of 10. And more than 600 children undergo mower-related amputations each year!
The Amputee Coalition offers these safety guidelines:

Never allow children to play on a lawn mower, even if it is turned off;
Never allow a child to ride on a riding lawn mower with you;
Keep your children indoors and do not allow other children to play nearby while you are mowing;
Children should be12 years of age or older before operating any lawn mower and at least 16 years old to operate a riding mower.


Before starting your lawn mower, use this simple Amputee Coalition checklist, which is based on information from the American Academy of Pediatrics. Keep this checklist in your garage or near your mowing equipment. It only takes a minute to prevent disaster.


Before Mowing:

Pick up stones, toys and debris from the lawn to prevent injuries from flying objects;
Wear shoes, not sandals;
Use eye and hearing protection;
Start and refuel mowers outdoors, never in a garage;
Refuel with the motor turned off and cool;
Have an adult adjust blade settings.


While Mowing:

Only use mowers with automatic shutdown abilities;
Do not mow in reverse unless necessary.


After Mowing:

Wait for blades to stop completely before removing the grass catcher, unclogging the discharge chute, or crossing gravel roads.

Source: The American Orthotic & Prosthetic Association (AOPA)
Thank you Kari for sharing your family's story — and may God richly bless precious Chloe and your entire family!
And may we all be more careful with our children as we power up (or get ready to push) our lawn mowers this spring and summer.

Written by Janice Croze, co-founder of the Mom Blog 5 Minutes for Mom.
I would love to chat with you more: @5minutesformom and Facebook.com/5minutesformom