This post may contain affiliate links. Read my disclosure policy here.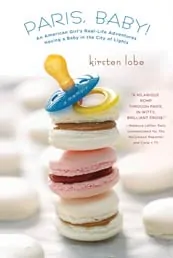 Do you remember the first time you were pregnant? Telling your friends your family? Realizing how much your life was going to change? Gaining weight or feeling sick or reveling in the radiant glow?
What about that first year or so of parenting? Sometimes pregnancy can be so difficult that it seems that actually taking care of the baby should be a breeze, but that's rarely so. Kirsten Lobe tackles all of these topics in her memoir Paris, Baby!
That's right — Paris. Not only is Kirsten having a baby, but she's having a baby as an American in Paris. And did I mention that she's 40 and single?
This is a delightful book — funny and candid. It will appeal to anyone who wants to relive her own first experiences with motherhood (or laugh as you give thanks that it's NOT you), or anyone who ever lived far away from home and loved and hated aspects of another country.
Lobe practiced attachment parenting, which some people love and some people loathe, but she particularly felt unsupported in her choice in Paris, where most kids are raised by nannies or daycares.
Paris, Baby! has all the strengths (and a few pitfalls) of a memoir of this type — it's really funny and clever, she brings us right into her world as an American living in Paris as she agonizes over the choices a mom has to make, and especially when she looks back on her carefree days as a single woman in Paris, the reader might feel a tad jealous. Here's the pitfall of memoir, because in general a memoirist has to think highly enough of his or her self to devote an entire book to telling stories of his or her life. But honestly, Kirsten Lobe sidesteps this pretty well, because she's so self-effacing and humorous. Even when I was rolling my eyes a little bit at the name-dropping, I was still smiling and laughing with her as she generally was lampooning herself. I couldn't hate her. In fact, despite we are WAY more different than alike in our parenting choices, I felt as if she was the kind of person where we would have been friends in spite of those differences.
Though I've only spent a week in Paris in my life, Paris, Baby! made me miss it, to yearn for it.
I thoroughly enjoyed this book — a sweet combination of travelogue, motherhood memoir, and tell-all — that is written with humor and sweetness and a detail that invites the reader to immerse herself into Kirsten's life.

I'm happy to say that I have a SIGNED copy from the author to give away to one of you (U.S. shipping only). Just leave a comment if you'd like to win, and we'll announce the winner in this column on May 30.
The winner of Daily Guideposts for Your First Year of Motherhood is #20 Tory.

Written by 5 Minutes for Books managing editor Jennifer Donovan. Jennifer also blogs at Snapshot.