This post may contain affiliate links. Read my disclosure policy here.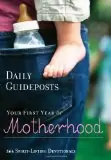 Though it's been 6 years since I went though the first year of motherhood, I do remember that there are days when everything seems to be a trial. Getting dressed, fixing a meal, or getting a load of laundry from hamper to washer to dryer and back out sometimes becomes an insurmountable obstacle.
Instead of "seeking first the Kingdom of God," for a time our minds shift to basic necessities like sleep, showering and some sort of nutritional sustenance. It is for such times as these that something like Daily Guideposts: Your First Year of Motherhood is the perfect resource!
The devotionals each have a quick verse of scripture, included on the page (which I always like to see), and are divided into the way we mark time when our babies are born — First month, Second month, Third month etc. Each entry is marked with a day in that month — day one through day 30. I think that the format is very mom-friendly. If you don't get to read one every day, you can simply used the pink ribbon bookmark (included and attached) to mark your place, so you can pick it up and read an entry any time you need a little encouragement.
The team of authors all bring their own experiences into it:
twins
premature birth
first-borns
long-awaited bundles of joy
unexpected pregnancies
They also share their thoughts on grandparents, visitors, friends, and husbands.
If you read Christian mommy blogs, you will be familiar with some of the authors, including Jennifer from ConversionDiary, Rhonda J. Smith from Musings of a Strong Black Woman, and Carol Hatcher, one of the devotional contributors at 5 Minutes for Faith.
If you click over to 5 Minutes for Faith now, you can read one of Carol's entries that appears in the book, and enter over there for a 2nd chance to win a book.

So, first leave a comment here for a chance to win a copy of Daily Guideposts: Your First Year of Motherhood, then check out Carol's entry at 5 Minutes for Faith.
We'll announce our winner in this column on May 16. THIS GIVEAWAY IS CLOSED
We also have a special giveaway for moms going on at 5 Minutes for Books. Click through to read my review and enter to win a copy of Amy Wilson's book of essays, When Did I Get Like This? The Screamer, the Worrier, the Chicken-Nugget Buyer and Other Mothers I Swore I'd Never Be.
The winners of our past giveaway, LaRue Across America, are #43 Domestic Diva and #22 Vilmarys.
Written by 5 Minutes for Books managing editor, Jennifer Donovan