This post may contain affiliate links. Read my disclosure policy here.

All moms with a baby, toddler or preschooler deserve a top-notch stroller to get out there and move!
We all know this Mommy gig is a tough one and it's not only baby that needs a walk… Mom does too.
A good power walk can do wonders for a woman. As our friend Workout Mommy says, "Never underestimate the power of a workout." And I agree… I often even dial it back to "Never underestimate the power of a walk."
Susan loves power walking and I know she would have LOVED to have a BOB stroller when her girls were smaller. (And she'd even love to have it now, but I stole it for Olivia first. LOL)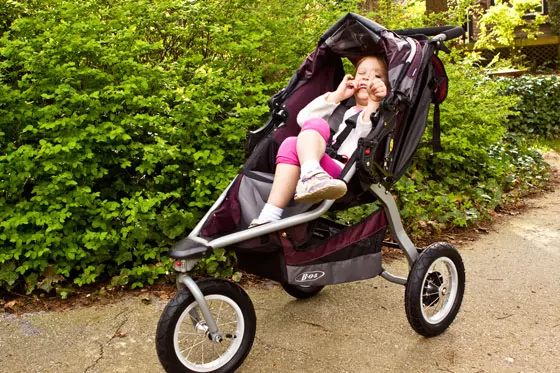 And Olivia sure isn't sharing it! (Well, maybe that's really Mommy isn't sharing it…but either way.)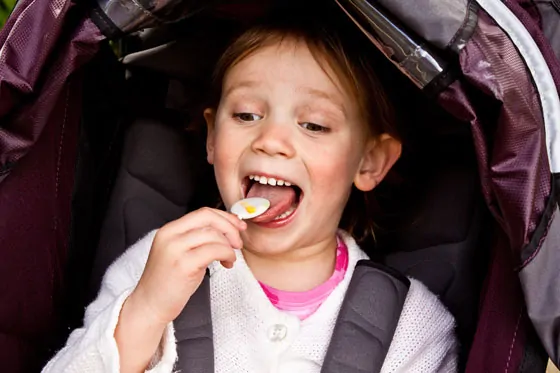 Olivia is so excited by this stroller that she keeps insisting we take her out for walks in it. Olivia is three and a half and about the same size as Susan's smallish almost six year old Julia. But she still fits nicely in the BOB Revolution CE.
The ride is incredibly smooth and quick to maneuver. She's comfy and I can walk or run with ease. I love the window for me to check in on her… I find that feature a necessity in a stroller.
So don't tell Susan and Sophia, but Olivia and I are loving the ride!
With the latest innovative features, the Revolution® CE is perfect for any city experience.
Coolly maneuver tight spaces and crowded places with the revolutionary swiveling front wheel or lock it in place for increased stability at faster speeds.
Trust the state-of-the-art suspension system, ultra-padded reclining seat and adjustable five-point padded harness to keep baby comfortable as you explore.
If your little one is not quite ready for the roomy, comfortable seat, the Accessory Adapter feature quickly secures a BOB® Infant Car Seat Adapter or Snack Tray when she's older.
The Revolution CE's easy-fold, lightweight design makes it simple to transport and store in the city. Click here to watch a short video that walks you through features of BOB Strollers.
An infant car seat adapter is available if you have a newborn or young infant. BOB recommends that your child should be at least 8 weeks old before riding in a BOB stroller without a BOB Infant Car Seat Adapter and compatible infant car seat.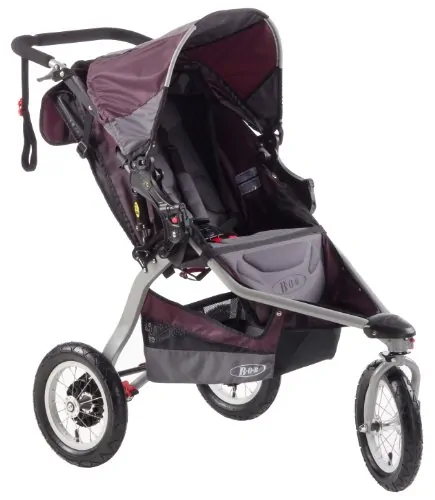 Please note that babies incapable of holding their head up must have additional head and neck support to ride safely and comfortably. For jogging or off-road stroller use, children should be at least 8 months old.
For details on the Infant Car Seat Adapter, please read: www.bobgear.com/carseatadapter. Single Infant Car Seat Adapters compatibility:
Graco®: SnugRide®, SnugRide® 30, SnugRide® 32, SnugRide® 35 Peg Perego®: Primo Viaggio SIP 30/30 Chicco®: KeyFit™, KeyFit™ 30
Single-child BOB strollers have a weight limit of 70 lbs/32 kg. Duallie models have a weight limit of 100 lbs/45kg or 50 lbs/22.5 kg. per seat.
If you're looking for a fabulous Mother's Day gift idea, you'll score huge if you bring home a BOB Stroller.
And of course as part of our Mother's Day Giveaway, we will select one lucky commenter to win a BOB Revolution CE.
To enter please leave a comment below.
Also, please help us thank BOB for sponsoring this fantastic giveaway. Click over to "like" BOB's Facebook Page and tell them 5 Minutes for Mom sent you.
This giveaway is open to US and Canadian shipping addresses and is void where prohibited. Please see our site's Terms and Conditions of Use for more information.
This giveaway will remain open until Saturday, May 7th. We will announce our winner along with our other Mother's Day Giveaway winners on Sunday, May 8th.
Please be sure to check our main Mother's Day Giveaway post for our list of giveaways. New ones are added daily.