This post may contain affiliate links. Read my disclosure policy here.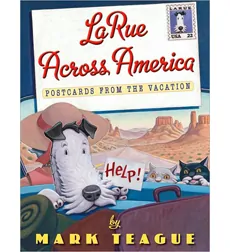 I am so pleased today to be able to offer a review of a "dog on a road trip" book here in our weekly 5 Minutes for Books column along with some road trip goodies, including a $50 gas card to fuel your next trip:
LaRue Across America: Postcards From the Vacation by Mark Teague is one of those intellectually smart picture books for kids (which means that parents are pretty likely to find it amusing too).
Ike LaRue, the cute dog featured on the cover, is a little bummed about his summer vacation. He and Mrs. LaRue were about to depart for a cruise to Mexico when their neighbor Mrs. Hibbins collapses from the heat and ends up in the hospital. Mrs. LaRue volunteers to take care of her 2 cats, but that throws a wrench into their vacation plans, because the cruise ship doesn't accept cats. Mrs. LaRue decides that all four of them will take a driving vacation instead.
Ike is not pleased with this change at all, and writes Mrs. Hibbins some postcards suggesting that she send bus fare so the cats can go home and the LaRues can still board their cruise. That's not to be, but Ike continues to write postcards to Mrs. Hibbins about their cross-country journey, all the way from New York to California.
We've enjoyed taking road trips ourselves, and we know the truth that they are never without mishaps. Ike finds out the same thing about sharing a back seat with 2 cats, enduring an unplanned change in schedule, and car trouble. But in the end, it all works out for good.
Mark Teague's LaRue Across America: Postcards From the Vacation would be a great way to relive your own road trip or prepare for one (or simply share a few laughs).
I have a great prize pack for TWO of you (U.S. residents only, please). Two of you will receive a copy of the book, a LaRue branded backpack, and a $50 gas card to fuel your own adventure!
Leave a comment if you'd like to win (perhaps sharing your biggest joy or trial on a road trip). We'll announce the winners in this column on May 2.

Written by 5 Minutes for Books managing editor Jennifer Donovan, who also blogs at Snapshot. Keep up with all the bookish goodness (reviews and book giveaways) by subscribing to our feed.