This post may contain affiliate links. Read my disclosure policy here.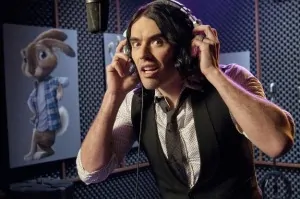 Russell Brand may be best known for his adult humor and over-the-top portrayal as Aldous Snow in Forgetting Sarah Marshall and Get Him to the Greek, or even to some for his recent marriage to singer Katy Perry.
When the new family film HOP opens on April 1, audiences should be prepared to welcome him as a fantastic source of laughter for the younger set as well, as the voice of E.B. Not ready to take over for his father the Easter Bunny, E.B. flees to Hollywood to pursue his musical career, but when his path crosses with Fred O'Hare, played by James Marsden, both of their lives will be forever changed.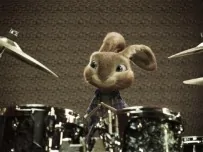 I'm thrilled to be able to say that I recently spent about twenty minutes in Russell Brand's presence, and it was the funniest experience I believe I've ever had. From the moment Russell Brand joined the group of parenting bloggers assembled to participate in the roundtable interview, he commanded the conversation, in a hilarious way. While the discussion included lots of silly jokes about "Mummy Bloggers," as Brand charmingly referred to us in his distinct accent, he also talked at length about the construct of the movie and its connections to cultural folklore and tradition. Honestly, I could have listened to him go on and on, hilariously or seriously, all day long.
How was it recording the voice for E.B., as opposed to filming a scene with other actors?
"Lonely. What we should have had is we should have packed that booth with Mummy Bloggers to give me something to do and an audience to play to. Tim Hill, the director, he's nice and he was encouraging to me.

They stuck me in a booth and just left me in there. I was lonely. There were some carrots. They said it would help with the character. I don't like carrots. I could see better, though."
See what I mean? For the full effect, you have to try to hear him say it in your head, rapid-fire and full of laughter.
Did they film the live part of it first?
"No. They animate to your voice, so that's good because you can change things and make decisions. They show a script and then I always change it because then I feel that I have more ownership of it and I feel that it's funnier. As a comedian, you have to be funny. Otherwise, they will take your card."
I have no fear that anyone will be taking his comedian card, ever. As talk turned more to the themes of the movie, the humor blended with more serious evaluation, as well.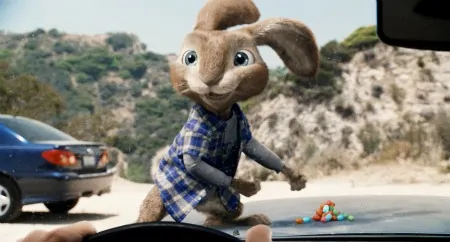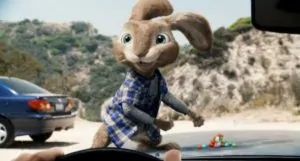 What is it that makes E.B. memorable?
"Well, firstly, he looks crazy. He's a rabbit and he doesn't have any trousers or pants on. That's peculiar. I remember that, myself.

And he has an evocative and playful spirit. The rabbit is a symbol in Native American mythology of the trickster often seen as the messenger between gods and man. Like Prometheus in ancient myth, who nicked fire from the gods, rabbits are almost mischievous. They're always nicking our crops if you're an agricultural type person."
Since children's literature plays a big role in both my family and professional lives, I appreciated the attention paid to that traditional role of the rabbit in lore and literature!
On the "realness" of the Easter Bunny:
"In your position as Mummy Bloggers, it's important to keep up the idea that the Easter Bunny is real. I temporarily possessed him. Is that weird? Is that going to help? I possessed the Easter Bunny temporarily and was able to provide him with a voice. I have got a double identity where, by night, I transform into a rabbit, which is a difficult and painful process where my fangs grow and my fur grows and I contort like a werewolf."
As you can imagine, the entire group was consumed by laughter while chatting with Russell Brand. Happily, I'm confident saying that adults and children alike will do the same when watching HOP, coming out in theaters tomorrow, April 1!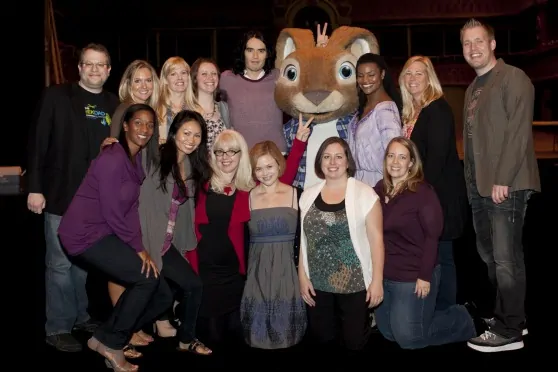 Photo Courtesy of Chris and Kristen Photography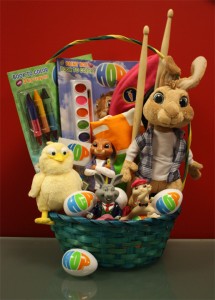 Are you and your kids looking forward to the movie HOP? We're excited to offer one lucky reader a fabulous prize pack of goodies from the movie:
2 Plush dolls
Pink Beret
E.B.'s Drumsticks
Coloring book with crayons
Watercolor activity book
Silly Bandz
Temporary Tattoos
Bouncy Ball
T-shirt
Hat
Figurine
Jellybean Dispenser
Giveaway courtesy of Universal Pictures. To enter, please leave a comment, U.S. mailing addresses only. We'll announce our winner on 4/9.
This weekend in L.A. left me completely starstruck and so excited to share this movie with my own children. I'm not done talking about it here, though, so please check out these other posts related to my HOP experience:
Disclosure: Universal Studios paid my expenses to attend the press junket for Hop, but any opinions about the experience or the movie are completely my own.
5 Minutes for Books reviewer Dawn lives to laugh, and she makes frequent attempts at humor on her blog, my thoughts exactly. She also wonders if anyone caught the joke in the title of this very post!