This post may contain affiliate links. Read my disclosure policy here.
My grandmother likes to tell stories. I relish the memories she shares about my younger self, fleshing out the memories of my childhood as seen through the loving eyes of a grandmother. Her tales of her own youth always surprise me, bringing to life the girl and young woman I never knew. She tells me a lot of stories, but I know that there are facts that aren't as easy to discuss even though they are common to us all–strained relationships between mother and daughter and husband and wife, fears, loneliness.
***********
When Lucy DiCamillo is eight years old, her mother Ruby dies in their garden. Lucy was there, and she has carried the burden of responsibility all these years. Her grandmother Kitty comes to live with her. Eleven years later, Lucy's memories of her first eight years are still cloudy and incomplete. She has her mother's paintings–mostly self-portraits–her rose garden, and a few familiar rituals that tie her to her past. Kitty shares some memories of Ruby, but now that Lucy is a woman herself she wants to hear more about her mother, the woman, instead of rehashed memories of Ruby that Kitty tells like stories. She wants to know more about the absent men in her life–both her father and Kitty's estranged husband.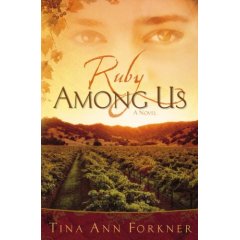 As Kitty begins to divulge her secrets, and Ruby's as well, Lucy gains a bigger understanding of her mother and grandmother. Bits and pieces of her own memories begin to come back. Using them and the new information Kitty has provided, Lucy tries to fill in the blanks on the canvas of her life that she has tried to paint with the help of new friends Max and Susannah.
Reading Ruby Among Us by Tina Ann Forkner caused me to reevaluate my own history and the men and women in it. The characters are so well-developed, and so perfectly human, that they become friends by the end of the novel. As Lucy's story was revealed gradually, I hungered to know more. The ending wraps up most of the story lines (as I prefer), yet leaves a few things unstated, allowing room for the characters to live on and grown in my mind as well.
If you'd like to win one of four copies of Ruby Among Us, leave a comment here. The winners (U.S. addresses only please) will be posted in next week's column.
The winners of last week's book, Under Pressure, are

#14 Amanda D.
#11 Refresh Mom
#19 Courtney