This post may contain affiliate links. Read my disclosure policy here.
Okay, you've seen our new look… and now it's time to meet the designers behind it.
Drum roll please…
We are thrilled to introduce Ruby & Roja Design (formerly Be Design).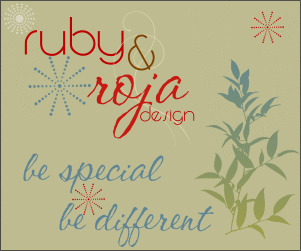 Ruby & Roja Design (formerly Be Design) is a little design company started up by designers Christy Mensi (Real Life Adventures) and Beth Fletcher (I Should Be Folding Laundry).

Christy and Beth are work at home moms with two little children each. In their spare time, which means late at night and in the wee hours of the morning, Beth and Christy work with clients to achieve a design that fits the clients hopes and needs. Both designers believe in 100% client satisfaction, so while their wait time is long, so is their list of happy customers. Ruby & Roja offers blog design packages for WordPress, Blogger and Typepad (plus or pro) and also offers website and logo design.

Although Christy lives in Texas and Beth is in Indiana, they consistently work together and share the same vision for Ruby & Roja – to create a company where service and style are top priorities.
Janice and I can sincerely say these two stand firmly behind their goal of 100% client satisfaction. I'd be scared to count the number of hours these two patient women spent on the phone with us.
Janice and I like to be VERY involved in the design process. (Yes, you might read that as we're rather high maintenance clients. LOL) But, Beth and Christy were beyond patient with us. They worked with us for hours over the phone and took our ideas and polished them up to create our stunning new look.
I'd say when choosing a designer, one of the most important factors to consider is whether you can talk to your artist over the phone. When you are trying to convey what you want from your site design, I don't think any number of emails can replace the value of a phone call. Beth and Christy understand that value and their business is entirely about you getting what you want.
These ladies have been working hard over the last couple of weeks creating our new "5 Minutes for Mom" site design, buttons and business cards.
But that's not all…
Beth, Christy and their trusty WordPress Installer Heather, have also been busy working on a secret project for us. We are all scrambling to get finished and we're hoping to unveil on Thursday.
So keep one eye on our RSS Feed. You SO don't want to miss this…