This post may contain affiliate links. Read my disclosure policy here.
Janice and I don't usually sit around laughing about bugs (even thinking too long about them makes us squirm.)
But when the folks at Raid® asked us to host a fabulous giveaway for TWO $500 Walmart Gift Cards, we decided we'd open up and laugh about our phobias.
So here's the deal… We're going to pick TWO winners and give them each a $500 Walmart Gift Card!
To get in the draw, just tell us a funny or creepy bug story that happened to you.
You can blog your #RaidBugStory and share the link in a comment or tell the whole story in a comment.
I'll include the giveaway details below, first let me get the story-telling going…
The Night of the Hawaiian Cockroaches
My full-fledge phobia of bugs began one sunny summer morning when I was nine years old. I woke, rolled over, opened my eyes and right there before me — on my pillow — was an ugly black spider. (He wasn't big, but he was ugly.)
I screamed. I jumped up and screamed some more. I didn't stop screaming for a long time. And inside my mind, I kept screaming for years.
(Clearly this response to a spider was not normal for a nine year old. Looking back now as an adult, I understand that my weird worries about bugs and my other paralyzing anxieties weren't typical kid stuff, but that's a whole lot of other stories… So back to this one…)
That wretched spider who snuck onto my pillow triggered years of true fear and panic over spiders and other creepy crawlers. My poor mother would have to perform nightly OCD rituals on my behalf of spider searches to ensure none could invade my space again.
If I saw a spider, even in daylight nowhere near my bed, I'd be unable to sleep properly for nights.
I never overcame my phobia of bugs, but it did lessen somewhat as I grew through my teen years.
Until… one night in Hawaii, my space was invaded by not one bug, but thousands!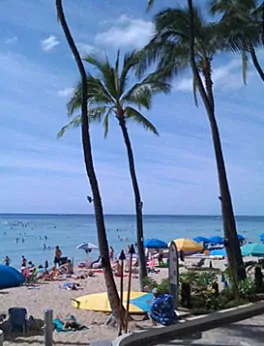 Janice and I were sixteen year old girls on the final night of a two-week family vacation in Hawaii. Our family's timeshare condo stay was up and we had to spend the last night in a hotel. Our father booked us a suite in mid-range hotel a block away.
At 10 pm, our parents went to sleep and we stayed up to cram in a week's worth of homework. The lights were off except for one lamp to light our books.
At 11 pm, I went to the bathroom, turned on the light and started to wash my face. But as I turned on the tap, I noticed a ton of little bugs in the sink basin. My body tensed, I tried to stay calm and grabbed some tissue and starting trying to kill them.
But I soon realized it was futile. They were everywhere!
I ran out of the bathroom and in muffled screams tried to tell Janice what I saw. I then went to the kitchen, switched on the light and almost passed out from panic as I saw a sight I could never even have imagined.
The floors and walls were alive with swarms of baby cockroaches. Apparently equally panicked by the unexpected light, the evil insects ran in all directions and I screamed like a teenage girl in a bad horror film. Our mother was instantly awake and at my side trying desperately to quiet me so I wouldn't wake my father. (He wouldn't have been as sympathetic.)
Our mom turned on the light in the living room and revealed hundreds more on the walls.
I was insane with panic. I hated Hawaii and I hated those cockroaches and I demanded we go to the airport that moment and wait for our flight home to a land where I'd never even seen a cockroach in my 16 years of life.
I imagine Janice was freaking out too, but all I can remember is my own desperate need to get out of Hawaii. Immediately.
Our mom phoned the front-desk, told them of the cockroach infestation and asked that they find us another room. The clerk agreed, we gathered our bags and went to the new room.
But when we opened the door, we saw them run — Cockroaches fleeing the light.
The embarrassed staff apologized and let us check over half-a-dozen rooms, but with each door we opened, we saw something scurry out of site. Some rooms weren't as bad as others, but none were bug free.
Janice and I were horrified and crying. We begged our mom to get us off this infested Island. But with our father asleep, our options were limited. We couldn't switch hotels and we couldn't make a run for the airport.
Instead, we chose the room with the fewest signs of roaches, turned on all the lights and pulled the beds away from the walls.
When the night was finally over, we told my father who, as expected, thought it was mildly humorous, but had a serious talk with the hotel staff.
They claimed the problem was that some of the units in the building were privately owned and thus not required to be part of the routine pest control program. It seemed that if even one room became infested with the bugs, they spread like sin.
The hotel manager assured us they'd do their best to solve the problem, but obviously I would never be back! (In fact it was years before I would even go back to Hawaii at all.)
We finally caught a cab and headed — hours early — to the airport. I couldn't wait to be home in Vancouver, Canada, Land of the Mostly-Cockroach-Free!
(Okay, well lots of homes in Canada likely do have cockroaches, but I've never seen any here and I'm working hard to keep it that way.)
How To Win One of Two $500 Walmart Gift Cards
To enter to win just tell us a funny or creepy bug story that happened to you. You can blog your story and share the link in a comment or tell the whole story in a comment.
And we don't usually allow bonus entries, but this time, we're weakening…
For additional entries, you can tweet, post on Facebook and/or post on your Blog telling your friends about this bug inspired giveaway. Just leave additional comments with the links to your tweet, facebook post and/or blog post. Tweets
should include hashtag #RaidBugStory
Each comment will be included as an entry in our random draw.
This giveaway is open to both US and Canadian shipping addresses and is void where prohibited. Be sure to check out our site's Terms and Conditions of Use for more information.
QUICK… This ends soon…
We'll accept entries through Tuesday, May 3rd and we'll announce the lucky winners on Wednesday, May 4th.


Thanks to our Sponsors

Raid Max® Bug Barrier creates a barricade around your home preventing 8 different types of insects from coming indoors.
Written by Susan Carraretto, Mom Blogger and 5 Minutes For Mom Co-Founder
Stay with us… grab our RSS feed, tweet with us and join our newsletter list.