This post may contain affiliate links. Read my disclosure policy here.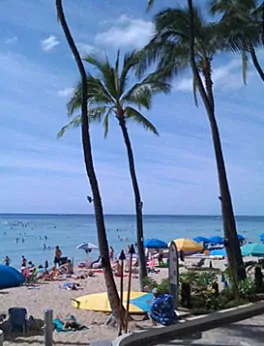 Twenty years ago I sat on this same beach, under the same palm trees and stared out at the same ocean.
Janice and I were 16 year old teenagers hating our fair skin that demanded serious sunscreen and trying to not let the beautiful tans of other girls ruin our vacation.
We were here with our parents and old enough that we didn't want to sit too close to them on the beach.
Now I'm the parent. My father has been gone for about ten years and my mom hasn't been back to the beach in almost as many years.
I'm here with my husband and two children of my own, but I still feel like I can see my mom under her umbrella a few feet away and my father trying to take our photos. Except that it is me under the umbrella and me with the camera. And I'm the adult worried about skin cancer.
It's all different but still the same. The beach is the same. The canal is the same. The streets have newer, fancier stores, but it all feels so familiar.
I didn't expect my beach vacation to include so much road of memory lane.
But all the while we are creating new memories for our family… like our trip today with the girls to the aquarium. Julia and Sophia aren't yet huge fans of the sand and surf, but they're still enjoying the trip.
If you want to see a few mobile photos, friend me on Facebook.
I don't have a consistent Internet connection, I can rarely seem to get Twitter to load and I forgot my digital photo card reader to get my 'real' photos off my camera, so I'm just uploading some mobile photos from my iPhone to Facebook… so now's a great time for us to start being 'Facebook friends'.