This post may contain affiliate links. Read my disclosure policy here.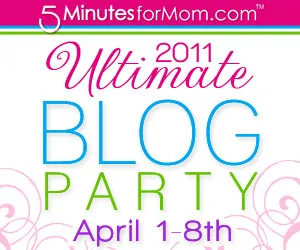 Over the next few days, we will be busy working on assigning prizes from the Ultimate Blog Party 2011 Prize Page…
But we are thrilled to announce the winners from our Featured Prize Sponsors…
We have selected one Random Winner (using random.org) from each Ultimate Blog Party Linky List to win a $100 Visa Gift Card provided by the following Featured Prize Sponsors
Mom Blogs with Product Reviews and Giveaways
Sponsor: Kristie from Saving Dollars and Sense
Follow Kristie @sawickis – Like Saving Dollars and Sense
WINNER: #142 – Food And Fun in the 419


Mom Blogs with very Little Product Emphasis
Sponsor: Jody from Mommy Moment
Follow Jody @mommymomentblog – Like Mommy Moment
WINNER: #220 – A Class of Her Own


Sponsor: Lesa from Bear Haven Boutique
Follow Lesa @ilovebearhaven – Like Bear Haven Boutique
WINNER: #280 – A Grace-full Life


Sponsor: Abbey from Living My MoMent
Follow Abbey @LivingMyMoMent – Like LivingMyMoMent
WINNER: #384 – Easy.Everyday.Eats.


Sponsor: Wendy from Kiboomu
Follow Wendy @kiboomu – Like Kiboomu
WINNER: #52 – One2One Network


Sponsor: Jen from Pipsqueak Boutique
Follow Jen @jenkirkpatrick
WINNER: #210 – Diary of a Nouveau Soccer Mom


Sponsor: Sarah from Home Based Working Moms and www.SarahCampbellOnline.com
Follow Sarah @_Sarah_Campbell – Like HBWMoms
WINNER: #9 – The WDW Dads


Sponsor: Emily from ColoradoMoms.com
Follow Emily @ColoradoMom – Like ColoradoMoms
WINNER: #453 – SemperFiMomma


Sponsor: Joan from Pedal Cars and Retro and A Rocking Horse To Love
Follow Joan @TheToyExperts and Like Pedal Cars and Retro and A Rocking Horse To Love
WINNER #207 – @donnascupoftea



Notice to Winners and Sponsors:
Please try to contact each other in a timely manner and arrange prize fulfillment.



TWO Random Winners drawn from the COMMENTS SECTION will win a $100 Land's End Gift Card
Provided by: Land's End
WINNERS:
#261 – Susan from Learned Happiness
#333 – Holly from Popsicles and Pigtails
Notice to Land's End Gift Certificate Winners:
You can reply to our email and we will arrange prize fulfillment.


Congratulations to all of the above winners!
And we thank you all for your patience as we assign the rest of the prizes.
Keep blog hopping and partying… there are hundreds and hundreds of sites for you to visit. Enjoy!