This post may contain affiliate links. Read my disclosure policy here.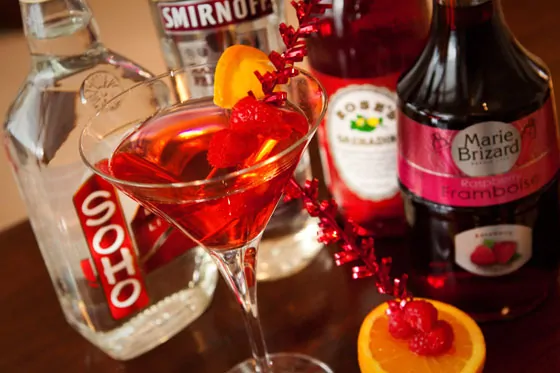 The Signature Cocktail of the Ultimate Blog Party
Do you like to enjoy a cocktail while you relax and mingle with friends?
Last year we shook up some sweet Cosmopolitans, but this year we decided to come up with a Signature "Ultimate Blog Party" Cocktail.
Our friend Theresa — who sadly does not yet have a blog for us to send her link love — created this special blend just for us…
Theresa's Raspberry Cocktail

1/2 ounce Lychee Liquer
1/2 ounce Framboise Rasberry Liquer
1/2 ounce Raspberry Vodka
Splash of Grenadine
Club Soda

Serve in a Martini Glass
Raspberries & Oranges make fun decorations.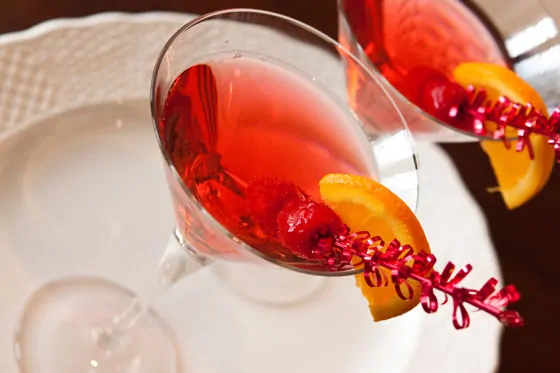 Now, before you start thinking Janice and I are heavy drinkers, tossing back Vodka every night while we blog, I'll let you in on few random and rather humorous facts about us…
Neither Janice nor I have EVER been drunk. Seriously… even in our teenage years, Janice and I had a profound hatred of throwing up and an oddly advanced understanding of consequences and sense of responsibility.

Neither of us ever got around to acquiring a taste for wine or beer.

We like our drinks tasty and generally what you might call "chick-drinks". Cosmopolitans, Bellinis, Margaritas… that type of thing.

We didn't have any of these ingredients in our houses, and had to purchase them all for this event.

We only own two martini glasses that we purchased for the Ultimate Blog Party 2010 when we made Cosmopolitans for the first time. (Again, having to run to the liquor store to purchase all ingredients right before the party.)

Both last year and this year, we had our mom actually make that liquor store run and mix the drinks as we were scrambling to get ready in time.

This year during our Live MomTV Webcast we actually FINISHED drinking our cocktails and didn't use them only for photo props. (Both last year and this year while we had our "Ultimate Blog Party" photo shoots we were both up late working on the party posts and couldn't afford to get too relaxed.)

We both really loved our Ultimate Cocktails and will likely be enjoying many more throughout the year.

So, while our crazy busy week comes to a close, I think we'll be spending many more relaxing evenings in the coming weeks sipping on an Ultimate Cocktail and blog hopping through the thousands of links in the Ultimate Blog Party 2011.
Join us… the Ultimate Blog Party 2011 Linky Lists are here to stay. So while it may soon be time to pause and hand out prizes, the partying can go on and on.
More Cocktail Recipes
Try these cocktails too…
Pin it for Later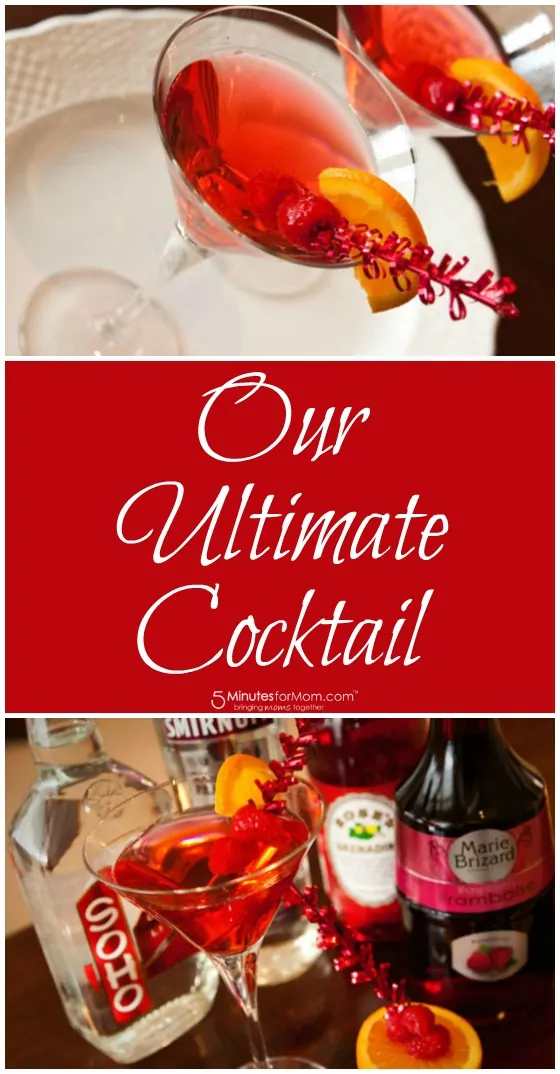 Written by Janice Croze, co-founder of 5 Minutes for Mom
Talk with me: @5minutesformom and Facebook.com/5minutesformom
Pin with me at pinterest.com/5minutesformom