This post may contain affiliate links. Read my disclosure policy here.
After working till the wee hours on UBP tasks, Susan ended up with only four hours of sleep last night,
But there is no mercy for a tired, single mom. Kids don't sleep in just cause we want to!
So, despite her exhaustion, Susan hosted my Olivia for an extended play date with her girls today, while I worked. (Yes – I guess I should have been hosting hers so she could sleep! LOL But duty calls.)
After playing with our girls at her house, taking them to the playground, going for a walk, and visiting the candy store, Susan arrived at my house around 3pm, desperate for more ways to keep our girls entertained that didn't involve her being on her feet.
Olivia keeps a flashlight in her bed, (I will post about that tomorrow! LOL) and so Sophia, Julia and Olivia started to fight over it. I quickly ran downstairs, grabbed two more flashlights and then watched the magic…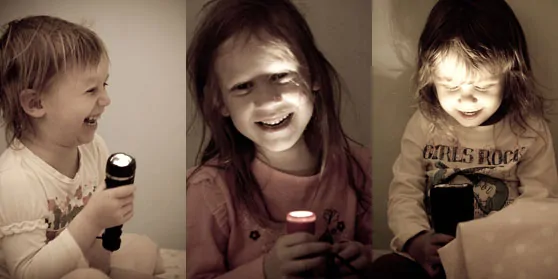 "Let's tell ghost stories…" the girls immediately squealed and the next thirty minutes they hid under the covers or jumped around the room, telling, "ghost stories" — which considering their ages weren't really very "ghosty!" lol
But Sue and I just sighed with relief that they found a creative way to play — that helped pass the afternoon!

What kind of games do your kids create on a long Saturday afternoon that surprise you with their creativity?
Please Note: We are Rayovac Sponsored Bloggers. But our kids don't care! They are obsessed with flashlights all on their own! You can find coupons and more at Rayovac's Facebook Page.
Written by Janice, co-founder of the Mom Blog, 5 Minutes for Mom
We love to chat with you! Tweet with us @5minutesformom and find us on Facebook/5minutesformom.