This post may contain affiliate links. Read my disclosure policy here.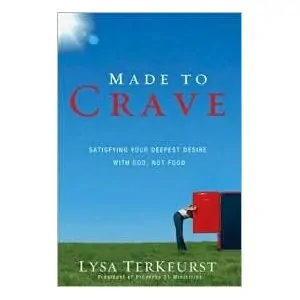 If you're a woman, you know we have to deal with cravings. Whether it's due to pregnancy hormones, PMS hormones, or a natural bent towards salty or sweet, I don't know a woman who hasn't experienced some sort of food craving.
Made to Crave: Satisfying Your Deepest Desire with God, Not Food is Lysa TerKeurst's newest book. Honestly, I'm always a little skeptical (of myself!) when I try to approach my battle with food spiritually. I sort of feel as if I'm tricking God — like pretending that I want it to be a spiritual thing so that I can get some sort of supernatural help.
Well, I was wrong. As I read the book and watched the DVD and heard TerKeurst share her own battle at getting her unhealthy eating under control, I realized that yes indeed, whether I've admitted it or not, it's a spiritual battle all the way.
I've always known that self-control is part of the fruit of the spirit that I should be able to exercise, and discipline is something I strive for in many areas of my life as well, and TerKeurst elaborated on that while also bringing in other areas such as indulgence and peace. In fact, it's something she said about peace that she touched on in DVD session 3 "From Guilt to Peace" that has stuck with me, and I think will really help me as I struggle NOT to overeat or to eat unhealthy things:
"Nothing tastes as good as peace feels."
I want to have peace with God about my ability to follow through. I want to have peace with myself about my food choices. Yes, many times it's okay to have a piece of cake or some ice cream. Food is not evil. But lately my choices have been wrong and out of control.
You could go through the whole study on your own (just reading the book, or using the DVD as well), or invite a few friends to come alongside you. Accountability is a big component for Lysa, and it always has been in my life as well.
Whether you are doing it alone or have a friend (or five) who you want to partner with, the DVD takes the content from the book and really makes it come alive. TerKeurst has a down-to-earth, sister-to-sister teaching style that will draw you right in. The other thing I liked is that she walks people who may be new to Bible study through how to use their Bibles or how to find verses (don't be afraid to use the table of contents!).
The Made to Crave Participant's Guide: Satisfying Your Deepest Desire with God, Not Food is designed for use in a small group setting, and has great timing helps if you are leading a group. It could be used individually along with the DVD to take your own journey a stop further, or even in a one-on-one accountability situation.

I have a wonderful set to give away to THREE of you: a Made to Crave book, Made to Crave Participant's Guide, and a DVD.
Leave a comment if you'd like to win, and we'll announce the winners on March 28.
The winners of the Tuff Board Books are #18 HappyMomC, #60 Melissa N., #42 Mary, #25 Kathy Stevenson, #26 Jen@HappyLittle Homemaker.
5 Minutes for Books managing editor loves reading and hanging out with her family (and reading with her family). She blogs at Snapshot.