This post may contain affiliate links. Read my disclosure policy here.
The Situation

It is Saturday afternoon. My nine year old son is on the couch watching Star Wars — for the 983rd time in his life.
I ask him to take out the dog and the whining begins. "Moooom — I don't waaant to! Why don't YOU do it???" Then he starts firing out excuses. "There is sap in my Crocs — I can't!" "It is too cooold." "The dog doesn't even WANT to go out!"
Rage is bubbling and rising inside me. Seriously child?!? It is your dog — the dog for whom you begged and pleaded… and made countless empty promises.
Finally, my son puts on his shoes and takes the dog outside. For less than two minutes. Sigh…
Enter: My Job Chart
But I have a NEW tool to revolutionize life with my chore-resisting son — My Job Chart.
I discovered it a couple weeks ago in my inbox. Well, the chart wasn't in my inbox. But an email from the creator, Gregg Murset, caught my eye and I clicked his link and found the best kids chore chart EVER — and it is even FREE! I couldn't wait to reply through email. I picked up the phone and called Gregg right.that.minute. I knew I wanted to spread the news about My Job Chart!
It is not surprising that My Job Chart is the perfect answer for parents looking to instill a work ethic in their tech savvy, 21st century (and sometimes lazy) children. Gregg Murset, financial adviser and father of six, was desperate for an effective and simple way to get his kids motivated and organized with their household responsibilities.
Why We Created My Job Chart from Gregg Murset on Vimeo.
Finding no online tools that met his needs, Gregg decided to create one! He invested his own money to build the exact online chore chart he wanted, thinking at the time that My Job Chart would merely be a tool for his own family.
But, Gregg quickly realized that his job chart had a much greater reach — parents like me need his brilliant tool. So thankfully, Gregg decided to launch his site, My Job Chart.
My Job Chart is a Revolutionary Family Resource
My Job Chart has been an instant success!
SUZE ORMAN even added MY JOB CHART as a "revolutionary family resource!"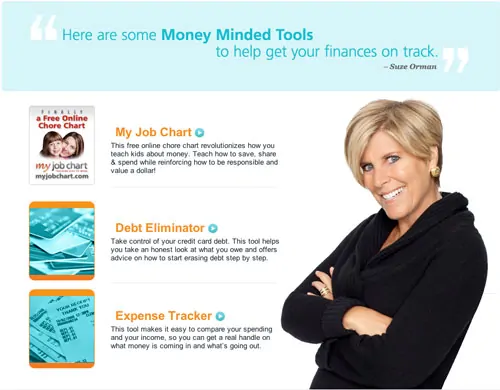 So far, over 48,000 kids are using the site, earning 2.8 million reward points monthly. On one day, My Job Chart added over 1,300 kids!
How MyJobChart.com Works! from Gregg Murset on Vimeo.
My Job Chart teaches kids responsibility, develops their work ethic and helps them learn the value of a dollar, while keeping them organized and motivated.
Considering today's kids are using technology to keep track of everything from their music, to their social life, to their homework, it makes sense to have a simple online tool to help them keep control of their chores and routines — and even their allowance.
My Job Chart has a built in reward system, that parents set up and monitor, that teaches kids to earn, save and even give!
Parents can also receive an email or text when their child's chores are completed or rewards are earned. They can then reply to this message by posting on the child's "post-it note" to positively reinforce good behavior and work ethic. I love that I can leave encouraging notes for my son that appear right on his job page.
Starting NOW!
When my son returned from taking out the dog, I sat him down at my laptop and introduced him to My Job Chart.
Together, we set up our family account, made his profile and began building his personal chore and reward chart. Everything is customizable for each family. We choose the specific chores, the prizes and rewards he wants, and even the amount of points he will receive for each chore they complete. Already I can feel the relief of having My Job Chart reducing the nagging and whining in our household!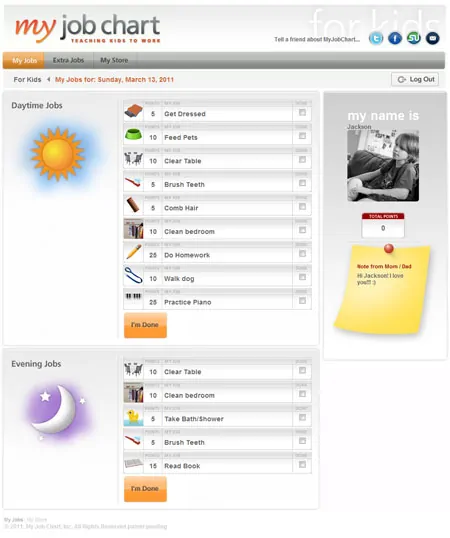 In a few weeks, I will update you on how we are doing with My Job Chart.
Do you want to try it out with us? My Job Chart is FREE and takes just minutes to set up. This is one of those fabulous resources you do not want to miss!

TELL US:
How are chores going in your household?
What are the HARDEST chores to get your kids to complete?
Do you use allowance as an incentive?

Please Note: 5 Minutes for Mom is working with My Job Chart as social media consultants and My Job Chart is a 5 Minutes for Mom sponsor. But, as you can tell from my post, my enthusiasm and excitement over My Job Chart is 100% my own!
Written by Janice Croze, co-founder of 5 Minutes for Mom.
Talk with me: @5minutesformom and Facebook.com/5minutesformom.