This post may contain affiliate links. Read my disclosure policy here.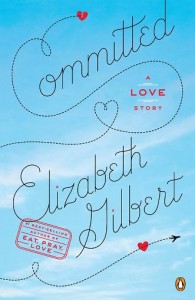 I recently watched the movie adaptation of the mega-bestselling Eat Pray Love book by Elizabeth Gilbert which I had read and loved years ago. Click through the link to my review and comparison of the book and the movie at 5 Minutes for Books.
In February of last year, I reviewed another of her books — sort of part two of the story: Committed: A Love Story (interestingly enough the subtitle of the hardcover book is not "A Love Story," but "A Skeptic comes to Terms with Marriage," both of which fit in different ways).
In the book, Gilbert herself addresses the problem of publishing a follow-up to the kind of book that Eat, Pray, Love turned out to be. Whereas that book was a book of self-discovery, Committed is more of a nonfiction research/memoir cross.
I like these types of "project memoirs" as I call them, in which the author takes the approach that a journalist would — examining his or her own life and supplementing it with intensive research on the subject. Yes Gilbert shares her personal experiences, but mostly explains or reacts to other studies she's read on marriage — and divorce — or laws, or social commentary on the institution.
Ultimately, she's not trying to change the world (well, she might be trying to sway thoughts and laws about marriage and what it does to women) — she's telling her story. She's telling why she chose love, and why she had chosen to be unmarried and child-free before being forced to take another look at marriage.
If you are looking for information on the institution of marriage — particularly if you feel disenfranchised from it either by divorce, or singleness (by choice or circumstance), or exclusion (by the legal definition of marriage), then I can highly recommend this book to you. As she says in the hardcover's subtitle "A Skeptic Makes Peace with Marriage," she is in fact looking at the institution of marriage from the viewpoint of one who does not believe that marriage has been a good thing — for her personally and also more broadly for women in general.
But for me, a happy-to-be-married woman who is (fairly) socially conservative, it is more of a flatline. I am glad I read it, because I do like Gilbert's style and matter-of-fact way of looking at life, but I don't need to read it again, and I'm not sure that it will stick with me as other memoirs, including Eat Pray Love, have.

We have a copy of Committed: A Love Story to give to one of you (U.S. addresses only). Please leave a comment if you're interested. We'll announce the winner on February 28 here in our weekly book column.
Jennifer Donovan would love to be able to travel as widely as Elizabeth Gilbert has. She blogs at Snapshot, where she shares about some of the trips she's been able to take as well as the ups and downs of her marriage (but not quite as candidly as the memoirist does).