This post may contain affiliate links. Read my disclosure policy here.
If you want to start a fight at our house, hand one of my two girls a flashlight and don't give one to the other girl.
Nothing will start a tantrum as fast as an unequal distribution of flashlights.
Yes, my girls are obsessed with flashlights. And as a result, when the wind starts howling, and I get nervous about falling powerlines, I start searching through toyboxes to find our emergency flashlights.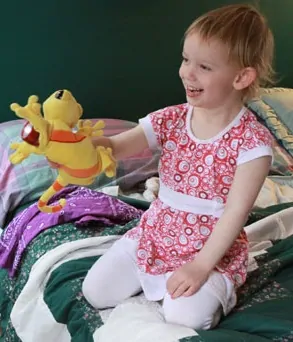 Since their cousin Olivia is often over to play, and all three girls must have equally sized flashlights to play with in their tent, and since at any given time half a dozen flashlights will be lost in toyboxes, we simply cannot own too many.
So when our friends at Rayovac asked me to share my top-love Rayovac products in honor of Valentine's Day, I immediately thought of their flashlights.
A flashlight doesn't have to be fancy for my girls to fall in love. But their favorite are the small ones that take 2 AA batteries. So if Sophia has a small flashlight and I try to offer Julia and Olivia large versions, chaos ensues.
If you're not too scared of losing your emergency flashlights, you can have your children play a game of Flashlight Puppet Tag. Have each child use a puppet to hold a flashlight and have one puppet shine the flashlight while the other puppet chases the spotlight. When the light is caught, then they can make up a short puppet show.
Please Note: We are Rayovac Sponsored Bloggers. You can find coupons and more at Rayovac's Facebook Page.
Written by Susan, co-founder of the Mom Blog, 5 Minutes for Mom
Tweet with us @5minutesformom