This post may contain affiliate links. Read my disclosure policy here.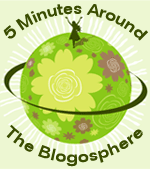 ANNOUNCEMENTS
The Mother's Day Photo Contest at 5 Minutes for Mom was so much fun, (have you voted yet?) the girls are running another Motherhood-Inspired contest this week too! Click over to the Motherhood Moments Contest post to find out how you can win one of ten SanDisk Cruzer® Gator USB Flash Drives by sharing your motherhood memories. (This contest is open to bloggers and non-bloggers, as well as both US and Canadian shipping addresses.)
Mark your calendars and join the Spring Into Summer giveaway event at Busy Mom! Every day from June 9th – 20th you can enter to win a fabulous prize. Stop by for more info.
Don't forget to enter this month's Write Away Contest over at Scribbit. This time the theme is "Shoes" and you could win $50 to Payless Shoes and a pair of little Friendship Shoes. Deadline is May 18th.
Lipstick, Powder 'n Paint is looking for experienced freelance beauty writers. If interested, email them at lipstickpowdernpaint at gmail dot com.
Cool Mom Picks is giving away a White Hot Safety Bath Duck by Munchkin to the first 100 people who fill out their parenting questionnaire. In addition, 2 respondents will receive an Ultimate Munchkin Gift Basket.
This week's Parent Bloggers Network's Blog Blast surrounds The Rookie Mom's Handbook written by Heather Gibbs Flett and Whitney Moss. To enter, publish a post between May 9th and 11th discussing what you and your baby's favorite activities and outings were during the early years. Don't forget to email them the link at parentbloggers at gmail dot com and link back to both Parent Bloggers Network and Rookie Moms. A random winner will receive a fantastic gift bag filled with $250 worth of goodies for Mom including the brand new BABYBJÖRN® Baby Carrier Synergy, a child's gardening kit from Smith & Hawken, a baby tshirt from Scout Organic Baby, and of course, a copy of The Rookie Mom's Handbook.
If that's not enough, Parent Blogger's Network is also giving you a chance to win a Johnson's Mom and Baby product gift basket and $25 credit to donate to the charities of their choice at Johnson's Baby Cause. How cool is that? To participate, Write a post on your blog telling us how you want to be recognized this Mother's Day. Post anytime between now and next Thursday, May 8th. You can find more information here.
INTERNET CONTESTS

Join their emailing list and you could win a bookbag bursting with books from The Gifted Grasshopper. A random winner is selected every month so sign-up today!
Win $50 to Nordstrom by getting the most bloggers to register at BettyConfidential.com – "a content and confidential networking community website focusing on women's life stages and interests. BettyConfidential.com offers a place for women to raise their voices, be heard, and express themselves about real "day-to-day" issues in a "room full of women" atmosphere." All newly registered members will also be entered to win $50 to Nordstrom!
Any NASCAR fans out there? Enter to win a weekend trip to the final NASCAR Chase for the Championship race in Miami, Florida the weekend of November 14, 2008 courtesy of Prilosec OTC. You may enter once per day and more than 100 instant winners will win other great NASCAR prizes!
Benefit Cosmetics and Chronicle Books have teamed up for The Mom's Ultimate Giveaway! One lucky random winner will win a copy of Mom's Ultimate Family Organizer and $500 to Chronicle Books! Deadline to enter is May 10th.
BLOG GIVEAWAYS
Just for Kids

sassyfrazz – A pair of shoes from Pedoodles (May 13th)
Great Reading

sassyfrazz – A Mending At the Edge by Jane Kirkpatrick (May 4th)
COOL WEBSITES
National Marrow Donor Program – During the two weeks surrounding Mother's Day, the National Marrow Donor Program will be conducting their Thanks Mom Campaign. At this time, the cost to join the Marrow Donor Registry will be free for the first 46,000 applicants (10,000 for online registrations). What a great way to thank your Mom for giving you life!
GREAT DEALS
Receive a free 8 x 8 Photo Book and 400 free print credits from ArtsCow.com (Thanks to Laura for the tip!)
If you would like to have a post on your blog featured in 5 Minutes Around The Blogosphere, please send us an email with the actual link to your post at features5minutesformom at gmail dot com and we'll see if it can be arranged.
Kailani can be found at An Island Life, An Island Review, & Island Baby Boutique.