This post may contain affiliate links. Read my disclosure policy here.
Fashion and function for photos on the go…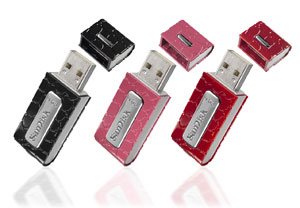 The SanDisk Cruzer® Gator USB Flash Drive is an alligator-skin design flash drive that lets you take your data wherever you go. At grandma's, at work, or wherever you want to show off your kids, you can have your favorite photos conveniently stored on this funky little flash drive.
So pack up your memories – favorite photos, videos, scanned-in
drawings, etc – in one of these stylish "suitcases" and take them with you or send them to out of town family as a gift. (I also like to know that I have my favorite photos safe in another location. The SanDisk Cruzer® Gator USB Flash Drive is a great solution. Your family has a convenient way to store photos and videos of yours and you know your most precious memories are safe in an alternative location.)
The Cruzer® Gators are available in 2GB, 4GB and 8GB, (the 8GB is available only in the US,) and come in black, pink and red. The 2GB retails for $24.99, the 4GB for $39.99 and the 8GB for $79.99.

This Mother's Day, we have ten Cruzer® Gators to give away. The winners will have their choice of either black or red in the 4GB size or pink in the 2GB size.
Let's Add Some Motherhood Carnival Fun to this Giveaway!
If you are a blogger, post one of your favorite motherhood moments – it could be a funny story, an essay, a photo or whatever else captures your memory best – on your blog and then come back here and add your link to the Mr. Linky. (In your post on your blog, you can explain that it is a part of this contest, and link back here. Some of your readers may want to get into the carnival fun too!)

If you are not a blogger – you can still play!!! You can leave your favorite motherhood moment as a comment or email it with the subject line Motherhood Contest, to 5minutesformom @ gmail dot com. (Please add your entry into the copy of the email so that we do not have to open attachments.)
We will choose our top ten favorite entries.
The entry deadline is May 9th at 9:00pm EST. We will announce the winners on Mother's Day, May 11th.
There isn't much time left – so hurry and get posting!
Both Americans and Canadians are welcome to join this contest.
P.S. Have you checked out our other contests in our Mother's Day 2008 Giveaway?