This post may contain affiliate links. Read my disclosure policy here.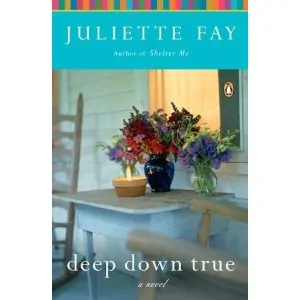 I liked the novel Deep Down True before I even read it. That's right — I was liking it before I even read one page of the novel.
Author Juliette Fay prefaced the book with her acknowledgments, thanking those in her junior high school who were the rare combination of nice and popular and naming the friends who never betrayed her. She goes on to say that "Adolescents are an interesting bunch, prone to acts of both great generosity and great ferocity, and you never know which is coming at you till it's in your face."
Although junior high wasn't a horrible time for me, I can relate. It was a learning and growing time. I began figuring out who I was. I learned (the hard way) who I could trust and who I couldn't. I hurt others and I got hurt. I wasn't one of the popular kids, but I had friends, and I was basically happy with who I was.
Deep Down True is a story about recently divorced Dana Stellgarten. Her kids are about the same age as mine — an almost 12-year-old girl and a 7-year-old boy, which drew me in right away. When her 16-year-old niece has a falling out with her mom, she ends up in the household as well, providing both stability and some additional drama.
Dana is the kind of person who has always taken things as they come. She's always been nice. She's always been there for her kids and others. But when her ex-husband tells her he's not going to be able to make his full support payments, she has to start thinking about herself when she gets a part-time job, and though it's hard at first, I think she kind of likes it.
When she has to focus on herself and meeting the needs of her family, she also seems to become a real person again. Like her middle-school aged daughter, she finds herself wondering who she can really trust, who brings out the best in her, and who might be better to avoid. The novel begins with Dana feeling pretty one-dimensional — all mom all the time, but when her kids go off for a week with their dad, she has some time to just be, and it really benefits her.
This is a fairly light novel that deals with some heavy (yet unfortunately commonplace) issues such as teen rebellion, eating disorders, mean girls, insecurity, divorce, betrayal and forgiveness.
I loved Dana and the kids and especially her full-of-personality niece Alder and the kind man who gives her a job when she needs one. I laughed and shook my head in agreement and in disbelief over and over again while reading.
Deep Down True grabbed me with the acknowledgment page and didn't let go until I read the last page.
We have one copy to give away (U.S. addresses only). Just leave a comment if you'd like to win, and we'll announce the winner here in the weekly 5 Minutes for Books column on February 7.
Like books?? Check out our current giveaways. Subscribe to our 5 Minutes for Books feed. Follow us @5M4B on Twitter.
Book blogger Jennifer Donovan is so appreciative of those in her life who know what it is to be "deep down true," which include friends, her kids, her husband and so many more. She blogs about other things she appreciates at Snapshot.