This post may contain affiliate links. Read my disclosure policy here.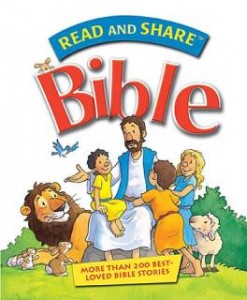 As a mom of young children, I am always on the lookout for ways to share Bible stories with my kids. We have many Bible storybooks, and each has merits of its own. The Read and Share Bible by Thomas Nelson is the newest addition to our Bible storybook collection. (Be sure to check the amazon link. At the time I am writing this, amazon has this Bible for a bargain!)
The Read and Share Bible contains over 200 stories from the Bible. Each story is told over two pages with vivid illustrations covering both pages. The stories are paraphrased to make them easier for children to understand, but the Biblical message is not altered. One aspect that I like about this book is that each Bible story includes a summary statement or a question to encourage discussion and application. Additionally, because there are over 200 stories, this Bible includes narratives that are often left out of other children's Bibles (e.g., the day the sun stood still, some of the prophets, etc…). This would make a great daily reading for young children with short attention spans!
If you would like to share stories about Adam and Eve, Noah, Joseph, and many more with your young children and grandchildren, I recommend the Read and Share Bible.
We have one copy to give away, so please leave a comment if you are interested. We will announce the winner in this column on January 24.
Book Blogger Lauren is a wife, mother of two, and an avid reader. She thanks Thomas Nelson for the review copy of this book. Lauren blogs at Baseballs and Bows.