This post may contain affiliate links. Read my disclosure policy here.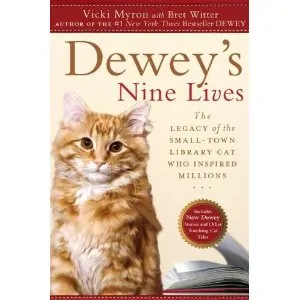 Books made great holiday gifts. Seriously. They are readily available in bookstores and discount stores everywhere and there's super-fast amazon online shipping for you procrastinators who are sitting at home in your PJs or sweats.
What's better than a book? An animal book, that's what. There's something about a simple heartwarming animal story that has broad-based appeal.
Have you heard of Dewey the library cat? Two years ago I reviewed Dewey: The Small Town Library Cat that Changed the World right here at 5 Minutes for Mom (linked to my review), and now I'd like to share the brand new Dewey's Nine Lives: The Legacy of the Small-Town Library Cat Who Inspired Millions with you.
Even if you haven't read the book, or even heard about this cat (whose story is now slated to be made into a movie starring Meryl Streep), the prologue of Dewey's Nine Lives fills the reader in on the background. It was nice for me to have a little refresher on what made Dewey so special.
After the prologue, each chapter is dedicated to one of the nine lives touched by Dewey in some way. The stories are born from people who reached out to author and librarian and "Dewey Mom" Vicki Myron after his death and/or after reading the book. Some of the stories are new stories about Dewey which go into a little bit more depth about the person who Dewey touched. Others are stories that readers shared about cats who made a meaningful impact on them.
I have to admit, I was sucked right in. Reading these stories tugged at my heartstrings and made me want to find a cat to cuddle, but I settled for giving my dog some special attention. Any animal-lover is sure to enjoy Dewey's Nine Lives.

We have a copy for one of you. Please leave a comment if you'd like to win. U.S. and Canadian addresses are eligible. We'll announce the winner in our column here on January 3.
Jennifer Donovan manages 5 Minutes for Books and has been a contributing editor at 5 Minutes for Mom for several years. She blogs at Snapshot about life with her 12-year-old daughter and 6-year-old son.