This post may contain affiliate links. Read my disclosure policy here.
Dewey: The Small-Town Library Cat Who Touched the World is about a small town in Iowa who finds a cold starving kitten in the book drop one morning. Vicki Myron is the librarian who lobbies to keep him as a library cat, and thanks to the agreement of the board, Dewey Readmore Books becomes an irreplaceable member of the community. He gains worldwide attention, but none of this goes to his head. He remains oblivious to the attention, and continues to curl up in the lap of the library patron who needs it most that day, scavenge for rubber bands, and wave at Vicki each day as she came to work.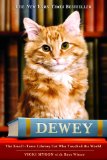 This isn't just Dewey's story. It's Vicki's too — how she survived a difficult marriage, single parenthood, and recurring illness in the midst of finding her niche in the small Iowa library. It's also the story of a town — Spencer, Iowa — and it's ups and downs as industry pulls out and this farming community hits hard times.
I don't particularly love cats, but I do enjoy a good heartwarming animal story, and I do love libraries. If you enjoy any of these types of stories, I can heartily recommend Dewey: The Small-Town Library Cat Who Touched the World.
We have five copies to give away. You can win either the hardcover book, or the audiobook version. I haven't heard the audiobook, but this kind of story is my favorite to "read" as an audiobook. Please let me know which you prefer.

For an extra chance to win, please leave a question for author Vicki Myron. She is recording a podcast on November 17, and they want to know what sort of questions you have for her! I'll let you know if your question is selected, and I'll publish a link to the podcast when it's available.
If you post a question, also be sure to leave a separate comment (as your second bonus entry) telling me if you'd prefer the audiobook or hardcover book.
The winners of 201 Things to do When Kids Say I'm Bored:
#144 Jennifer Short
#245 flared0ne
#243 Marcia S.