This post may contain affiliate links. Read my disclosure policy here.


Jennifer is in the Dominican Republic representing 5 Minutes for Mom with Compassion Bloggers. Make sure you check back all this week to read her daily posts.
While she is away, I am filling in for this week's 5 Minutes for Books column.
201 Things to Do…
When Jackson says, "I'm bored!" I am often just as lost for something creative and fun to do as he is.
I might suggest, "Why don't you play with some toys?" or "How about you draw me a picture or do some pages in one of your workbooks?" But he inevitably flops on the couch with a pathetic sigh, "No – that is all boring!"
What I know he really wants is for me to play with him – to engage with him and discover excitement together.
But in those moments when the rain is pouring down or the day is inching along far too slowly, I draw a blank. I know there must be a ton of things I could do to transform that boring day into a memory that he will treasure – but at that moment, I don't have a foggy clue what they are.
I need HELP!
What I need is a list – a detailed book that has all the ideas and instructions I need to become that brilliant parent who whips together an afternoon worthy of remembering.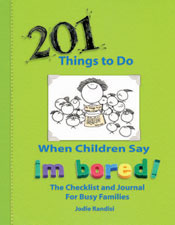 Enter Jodie Randisi, author of 201 Things to Do When Children Say I'M BORED! – The Checklist and Journal for Busy Families.
This fantastic resource of Jodie's imaginative ideas can save us when our kids are bored and needing some creative direction.
201 Things to Do When Children Say I'M BORED! is even more than just a checklist of stuff to do – it is an inspiration for us to engage and experience the world WITH our children.
I know with my busy schedule, I am often guilty of not spending enough time getting "dirty" with my kids in their world of imagination and play. I need to make our family life special and memorable. I need to show them that they are valuable by investing time and energy playing with them.
201 Things to Do… equips me with ideas and instructions so I can create priceless family times that not only beat away boredom, but ensure I have fun with my children.
It is also a journal, where I can record notes about all of the activities we did together. It then becomes a legacy of memories. A book that we can flip through in years to come, to recall the fun times we shared together.
The book is divided by ages with ideas for children 3-6 years, 6-11 years, and 6-16 years old. Some of the ideas in 201 Things to Do… require little prep time and can be done on the spur of the moment:
#14 Search The Magazine – Set out a pile of magazines. Ask your child to flip through the magazine page by page to search for certain types of items; for examples, food, drinks, pets, shoes, cars, trucks, etc. Have some simple stickers to mark the found item.
Set the kitchen timer for 5-10 minutes. When the buzzer sounds, count the stickers. (for ages 3-6)
#62 Take a Mystery Walk – Put on comfortable shoes and start walking. Flip a coin at every intersection. HEADS go right. TAILS go left.
SUGGESTION: Ask the children to guess where the final destination might be and give a prize for the closest guess. (ages 6-11)
#65 Family Trivia Game – Make up your own Family Trivia games. Write questions on index cards and the answers on the back of the card. Play Jeopardy style, or any way you like… it's your game. (for ages 6-11 – but I think all ages would work great for this!)
Sample Questions:
Where did Mom go to college?
Where did Dad take Mom on their first date?
What was Bobbie's first work?
Who came up with Stella's nickname?
Other ideas take some planning, but the extra effort will show your kids how much you care about them:
#1 Backyard Zoo – Create a backyard (or sunroom, porch or garage) zoo. Have children arrange stuffed animals in specific habitats. Add props to make it REAL – twigs, leaves, rocks, etc.
Give your zoo a name. Make signs, invitations and tickets. Invite people to visit. Encourage children to give mini-lectures. Doing a little research is part of the fun! (ages 3-6)
#57 Make a Tee Shirt Quilt – Make a tee shirt quilt. For a smaller project, make a quilted cover for a body pillow. Use your child's tee shirts, or buy a set of new tee shirts from your vacation spot. If you want to use the actual shirts, check local garage sales and thrift stores for soft cotton tee shirts.
TIP: For complete instructions, read The COWCATCHER'S Guide to How to Make a Tee Shrit Quilt – Even If You Can't Sew. (ages 6-11)
#53 Family Picture Bingo – Collect Family photos and makes copies of small pictures of everyone in the family. Cut them out and paste a set of pictures on bingo templates – a simple 5 by 5 column box graph will do. Choose something fun to use as markers such as pennies, uncooked macaroni, or buttons. Call out categories such as "anyone the same age as you" or "anyone whose name had the letter "h" in it." (ages 6-11)
#186 Begin a family diary. Take turns writing in it. Let the younger children tell of the experiences, thoughts and feelings while someone older records the entry. (ages 6-16)
With 201 Things to Do…, my kids will feel loved and cherished when, instead of brushing off their pleas for attention, I reach for my 201 Things to Do checklist and we delve into the world of play together.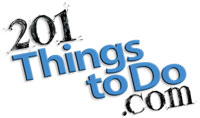 Jodie Randisi – aka The COWCATCHER – is self publishing this updated and revised edition of her book, 201 Things to Do When Children Say I'M BORED! – The Checklist and Journal for Busy Families and it is available as an e-book or as soft cover spiral bound version. (A hardcover deluxe version with premium acid-free pages for keepsake quality will be available soon as well.) All purchases come with 100% money back guarantee.
If you want to order a copy, visit her website, www.201ThingstoDo.com.
With Thanksgiving and Christmas holidays coming, 201 Things to Do will be great to have on hand for entertaining your kids while they are home from school.
We have three soft cover spiral bound copies to giveaway. If you want to win a copy, just leave a comment at this post.

Last week's three winners of the set of two books that will help you Understand Your Children are:

#114 Sarah Hanson
#99 Faeryland Mom
#74 Amy