This post may contain affiliate links. Read my disclosure policy here.

Joanne Rendell the author of last week's review, The Professors' Wives' Club, wrote a great guest column On Reading at 5 Minutes for Books. Check it out, and keep reading to see if you are one of the five winners of that book.
These days if any child does not fit the mold, the educational system is quick to slap a label on them. Labels can be very helpful as far as highlighting areas in which a child might need help, but labels can also be very limiting. What's more — we label our children as well, which can often cause us to view them unfavorably, instead of simply accepting the way that they are wired.
As a parent, I find this to be a very hard balance. When should I make accommodations for my child's inherent personality, and when should I expect him to conform to my expected behavior (which usually goes along with what society deems as acceptable or desirable)? I recently read two books which shed light on this tough parenting issue.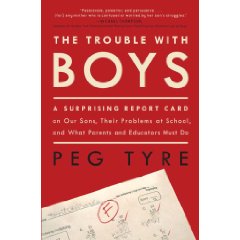 There ARE behaviors that have been classified as "bad," but there is also no doubt that some children are simply wired that way, and in many cases they are evident in boys more than girls as Peg Tyre points out in her new book The Trouble with Boys: A Surprising Report Card on Our Sons, Their Problems at School, and What Parents and Educators Must Do.
When I read the title and looked through the table of contents, I wasn't too compelled to read this book, because it seemed to me that the author was simply giving her research about everything that was wrong the system. Even though I do have an active preschool boy who may well suffer because of certain expectations that will be difficult for him to fulfill, I am still not one to rock the boat. I'd rather hear about what I can do to help him.
Well, I'm glad that I went ahead and started to read. By the time I finished reading the introduction, I was convinced that this IS a problem, and there are steps that I can take as a parent. After laying out all the facts (including that preschool boys are "expelled" five times as often as girls, girls are taking advanced classes at much higher rates than boys, and boys drop out of high school much more than girls). It's very readable and the information is compelling about how our educational system (and even our choices as parents) are what have changed, and that many of these changes are detrimental to many boys. There also is practical information, such as how to identify that your son may be disengaging from school. The book is divided into chapters addressing different issues, such as preschool, kindergarten, recess, the ADHD diagnosis, literacy, and even video games.
Find out more about Peg Tyre and her book at her website. You can watch the segment on the book that the Today show did HERE. It's a great introduction to the book, and also shows one school system that is making some changes.
When the Labels Don't Fit also takes a look at children whose needs might not be met by the typical model in society. Children are being labeled with much higher frequency with emotional disorders, learning disabilities and social interaction problems such as ADHD. The author, Barbara Probst points out that these diagnoses are not always made in an effort to help the child (although that is occasionally the result), but to mark the child as one who is not conforming to acceptable standards.
I love books about personalities and temperaments and natural bents. and that's exactly what this book is. There is a great quiz at the front (and a bonus — several "scoresheets" for you to rip out from the back to use to assess not only your children but yourself to analyze how you interact with them). After you've completed the quiz, Probst walks through the different core traits (source of energy, arousal level, concentration, intensity, tempo, sensitivity, adaptability etc). Each section features a real-life problem (for example, getting a child who is slow in tempo out to the bus on time), insight into the core trait that is at hand, and action to take to solve the problem within your child's natural ability (and most of the time still meet yours and societies expectations as well).
The book begins with a chapter on "Respecting your child's inner world" which is the "new approach to raising a challenging child" that she identifies with the subtitle of the book. She maintains that we have to accept our children for the way they are. An introverted child will need time alone, and will probably not want to join sports teams. This is the way that child is wired. However, she recognizes the desire that parents (and even that introverted child) have for acceptance and friendship. Instead of shoving your child into a group situation that will make her feel more frustrated and unhappy, she offers insight to what would work as a social outlet (group activities that are still performed independently such as diving, photography, weight training etc.).
It's the best book I've read that identifies the temperaments and personality traits and also gives very practical advice to dealing with them. I can't recommend it highly enough, especially if you have a child who seems more energetic than others, less regular (doesn't eat or sleep like "normal" people), more intense, less adaptable etc. Since none of us are "ideal," I imagine that every parent would find a way to better relate to each of their children with the help of this book.
We have 3 sets of books to give away. Each winner (U.S. or Canadian shipping addresses) will receive one of each of these books. I will post the winners in next week's column.
The winners of last week's book The Professors' Wives' Club are
#23 Lindsey@Kindred Spirit's Thoughts
#108 Erin Walsh
#148 Becca
#57 Anne
#160 Holly