This post may contain affiliate links. Read my disclosure policy here.
Do you know the difference between wind and blows? Did you know they are friends and love to play in the trees? In Bethany Erin's The Wind and The Blows, the mischievous Blows dance and play all day, playing hide and seek with the Wind. The colorful pictures and childish dialogue between the Blows make this book perfect for any small child. The Wind and even the storms become your friend and you'll find yourself looking, hoping to catch a glimpse of the Blows dancing among the sheets on the clothesline…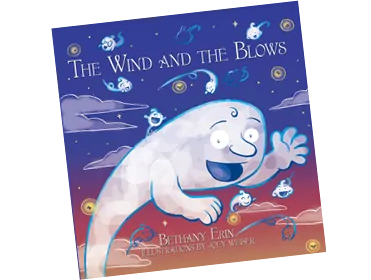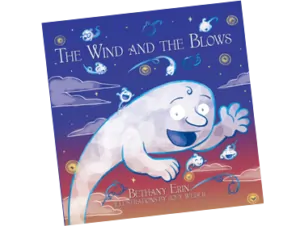 Bethany's writing style amuses me. I visit her blog on a regular basis for my fix of Bethany Randomness. Whether you like quick funny thoughts or posts that make you stop and think, Bethany has a way of saying what we all think!
Bethany Erin is a twenty-five year old author. Her debut children's book, The Wind and The Blows has been delighting my son all week. We may be a little biased since we've known Bethany for a few years and she's practically our neighbor; she was one of the first people to come over and visit after Lil Man was born, but that doesn't mean I'm exaggerating about how CUTE this book is!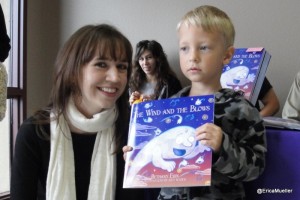 We had the enormous privilege of attending one of Bethany's book signings and getting an autographed copy to cherish.
The Wind and the Blows would make a perfect gift for a little person on your list. I love that it's cheap enough to buy several and maybe even donate copies to local children's charities!
Giveaway:
One 5 Minutes for Mom reader will win a copy of The Wind and The Blows by Bethany Erin!! The winner will be selected randomly on Jan 10, 2011.
Entrer:
Leave a comment here telling us who you'd like to give this book to!
We thank 5 Minutes for Mom contributor Erica for guest-authoring this week's 5 Minutes for Books column.
The winner of the Green Eggs and Ham giveaway is #64 Vilmarys.