This post may contain affiliate links. Read my disclosure policy here.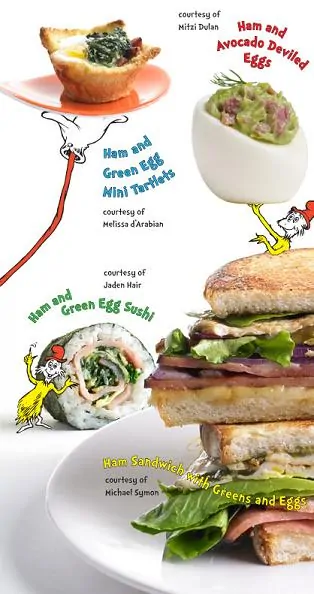 Did you know that it's the 50th anniversary of Dr. Seuss' classic book Green Eggs and Ham? That means that most of you, like me, remember the book from your childhood and have also shared it with your kids (I'll bet that some of you even remember the book from your childhood, shared it with your kids, and now look forward to sharing it with your grandkids!).
In Seuss' classical repetitive and rhyming style, the unnamed character who will not eat green eggs and ham is pursued and coaxed by Sam-I-am until he finally consents to try them. Of course he tries them and he likes them, which is a lesson that we all hope our picky eaters will learn from, right? That makes it a wonderful story to share — a fun lesson told in a way which might drive the parents crazy is a wonderful way for kids to learn to read and to experience the fun cadence of language.
I've shared the story with my kids, but I know that my 6-year-old son Kyle could read it on his own now, and I think he'd get a kick out of that, so it's time to pull it out and put it in front of him.
Click the image for some fun pork recipes inspired by the book.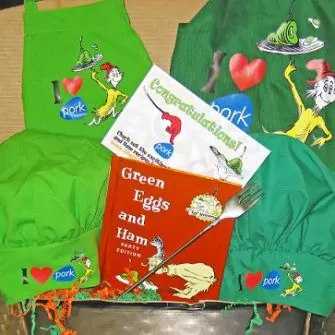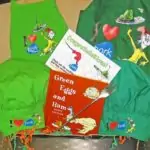 In honor of the anniversary, I have a fun giveaway for one of you to encourage you and your kids to get in the kitchen and try some of these recipes (U.S. shipping addresses only):
Just leave a comment here if you'd like to win. Just for fun, tell us what your family thinks about ham, or let me know which of the featured recipes above you might like to try (I have to say that deviled eggs with ham and avocado sounds delicious!).
We'll announce the winner in this column on December 27.
Disclosure: I received my own fun prize pack in exchange for posting this post and giveaway.
5 Minutes for Books managing editor Jennifer Donovan loves books and she loves food, which makes this a perfect post for her. When she's not reading or writing reviews (which isn't very often these days), she also blogs at Snapshot.