This post may contain affiliate links. Read my disclosure policy here.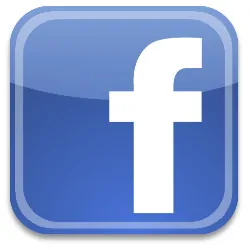 So, we all know Facebook is here to stay. They have conquered the social media space and even got a great Hollywood movie with The Social Network. But, what intrigues me these days is how seriously companies are using their Facebook Fan Pages to build relationships with their customers.
I think it's fantastic. (Seriously, I didn't intend that pun. Really… I'm considering rewording it now. LOL)
But, back to my point…
Companies have recognized the power of Facebook and many are doing an excellent job using the platform. When I'm online I see countless examples of brands getting on board with social media, but lately even when I'm out in the "real world", I have been given customer surveys from stores and restaurants to complete via fan pages in exchange for great discounts and offers. It seems like a great idea to me as it's not as intrusive as filling my inbox with email offers.
As you may know, Janice and I work with Rayovac to spread the word about their great batteries that are a fraction of the price of other brands but last just as long. And I think they are an excellent example of a company reaching out to their customers through their Facebook Fan Page.
For several months Rayovac has been interacting with social media users, offering truly valuable coupons, prizes and solving customer service problems through their Fan Page. In fact, I just read a wall message from a user asking for assistance getting the coupons to print on a Windows 7 machine, and within one hour — on a Saturday — she received a personal reply:
"Hello Debbie, I am sorry that you are having troubles printing our coupons. Please contact me at Chr[email protected] and I can assist you. Thanks!"
Can you grasp how profound that really is? Try to imagine ten or twenty years ago, going online to print coupons at home (at any time of day) for a product you want and need, and then having trouble printing them, leaving a public message for the company online and receiving a personal response within an hour — on the weekend!
I love how social media is changing business for the better.
To see first hand how Rayovac is reaching out to consumers, click over and become a Rayovac VIP.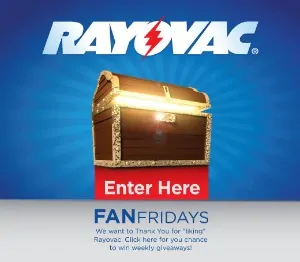 All you need to do is "Like" Rayovac on Facebook, then click on the Promotions tab and become a Rayovac VIP. Rayovac VIP's receive exclusive first looks at upcoming promotions, special coupon offers, VIP giveaways and current hot deals at retailers.
They are doing such a good job that you'd be joining around 125,000 others by "liking" their page.
And don't forget to sign up for Facebook Fan Fridays for a chance to win in Rayovac's weekly giveaways.
So What About You?
Do you like seeing companies using Facebook to engage with consumers?
What are some examples of your favorite Fan Pages?
Do you have a Facebook Fan Page? And if so, do you find it tricky to juggle posting time between your Fan Page and your Personal Profile? (Janice and I struggle with that.)
If you have a Fan Page, feel free to leave a link in your comment and we'll check it out. I'm sure we'll "Like" it!
And we'd LOVE to have you join us on our 5 Minutes For Mom Facebook Fan Page.
Disclosure: We are Rayovac Sponsored Bloggers
Written by Susan, co-founder of the Mom Blog, 5 Minutes for Mom
Tweet with us @5minutesformom