This post may contain affiliate links. Read my disclosure policy here.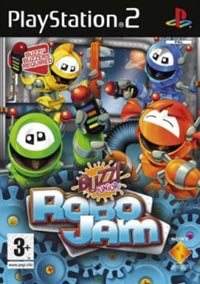 Do your kids have a Playstation 2?
Yes? Then Buzz! Jr. Robo Jam is a surefire way to get your entire family laughing together.
These cute little robots will take your family to a futuristic world of fun.
The games are simple enough that six year old Jackson has a blast and still challenging enough that his expert-gamer uncle Rob doesn't doze off.
Up to four of your family members can play together at the same time. Or if you need a few minutes of peace to prepare dinner, your child can play solo and compete against the computer.
Buzz! Jr. Robo Jam includes 24 mini-games that you play using the four buzz controllers. The Buzz! buzzers make playing simple for young users with no complicated buttons. And because each set comes with four controllers, game time is party time! (Jackson loves to get everyone involved – so for us the more controllers the better!)
Thanks to Sony, we have two copies of Buzz! Jr. Robo Jam, including Buzz! buzzers, to giveaway. If you'd like to win this family-friendly game, leave us a comment and let us know.
(We realize that some parents don't agree with kids playing video games and we definitely respect that opinion. We are offering this giveaway because we think that family friendly video games are a good alternative to violent games. If you don't allow your children to play video games, we understand and hope that you can just skip this giveaway.)
Enter to Win:
If you want to win, all the instructions about entering the "Two Weeks of Toys" Giveaways are included in the "Two Weeks of Toys" Giveaway post (including the code to put our "Two Weeks of Toys" Giveaway button on your site.)
But here is a reminder:
Leave a comment on this post to be entered.
Post a link to this contest (your readers may like a chance to win too!) and/or link and post a button to our "Two Weeks of Toys" Giveaway post. (If you post the button and link to the "Two Weeks of Toys" Giveaway, you are qualified to enter in all the upcoming "Two Weeks of Toys" Giveaway contests.) Non-bloggers are welcome too – we understand you can't link – just pass the word on to your friends.
(This giveaway is open to US shipping addresses only.)
Good luck! And we will see you tomorrow for our next "Two Weeks of Toys" Giveaway contest.