This post may contain affiliate links. Read my disclosure policy here.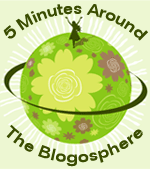 ANNOUNCEMENTS
Mama Speaks is looking for a few cool & hip Moms to join them in reviewing various products for their site. If interested, contact them at reviews (at) mamaspeaks (dot) com with "Mama Search" in the subject line.
Looking for a place to advertise your contests, giveaways, carnivals, special events, etc.? Check out The Message Board at Notes From My Nest.
There's a new carnival in town – Fabulous Father Friday – where you can share stories of the wonderful Fathers in your lives. For more information, stop by Notes From My Nest.
Mamanista has put together an awesome Mother's Day Gift Guide to help with your shopping needs. Check it out!
The Seabird Chronicles is hosting a Crafts For Young Children Swap. All you need to do is prepare and mail a box of fun craft ideas/supplies to your swap partner then receive a box for you and your child! To participate, sign up before May 5th.
INTERNET CONTESTS & GIVEAWAYS
Help the Earth and you could win a Green Home Makeover! The Green Caps for Green Energy Program, sponsored by Silk, will donate 30 kilowatt-hours of green energy for each purchase of any green-capped Silk product. Enter the UPC number at www.silksoymilk.com and you'll be entered for the giveaway. Stop by Silk Soymilk for more information.
To celebrate Mother's Day, Windows Live is sponsoring "The Portraits of Mom" event where you could win some great prizes by uploading a photo of your favorite Mom. In addition, Windows Live is hosting free family photo sessions in New York and San Francisco in the Portraits of Mom Studios. Sessions include complimentary makeovers, snacks, games and the opportunity to take home beautiful portraits captured by professional photographers – all for FREE.
Olive Kids is celebrating their 10th Anniversary by giving away $750 in merchandise to one lucky winner. There are other prizes, too, so check it out before June 30th.
BLOG GIVEAWAYS
Just for Women
Just for Kids
Baby Essentials
Home Items
Books for GrownUps
Misc. Items
COOL WEBSITES
The Responsibility Project – A project aimed at initiating discussions about responsibility and what it means to each individual through an online community which includes various interactive tools including independent short films, discussion guides, a blog, etc. The project started when Liberty Mutual received a huge, positive response to their TV ads. A lot of the respondents were teachers/educators who showed the ads in their classrooms to initiate the discussion of responsibility with their students.
Thumbplay – "The #1 mobile content destination in the U.S., is offering a variety of ringtones that will help people remember to take care of their taxes before the last minute rush. Each and every time a consumer's cell phone will ring, they can be reminded to file their taxes.Of course, those of us who have already filed our tax return and received (and possibly spent) our refund shouldn't be left out in the cold. For them, Thumbplay has collected a variety of ringtones and games that consumers can use to celebrate their newly received checks. Nothing like hearing the O'Jays' "For the Love of Money", every time your phone rings to remind you of that nice fat check you got in the mail."
GREAT DEALS
If you would like to have a post on your blog featured in 5 Minutes Around The Blogosphere, please send us an email with the actual link to your post at features5minutesformom at gmail dot com and we'll see if it can be arranged.
Kailani can be found at An Island Life, An Island Review, & Island Baby Boutique.