This post may contain affiliate links. Read my disclosure policy here.
Hello Rousseau! and Hello Matisse!, both by Catherine de Duve, allow kids to get to know the artists through historical background, stories, and activities that put the reader into the fun. The reader is asked to draw a landscape in the style of Rousseau, looking closely at his style. The book encourages the reader to experiment with color techniques and shades, and invites the child to respond to write a story in response to one of the paintings.
These thin books would be a great take-along on a trip or a wonderful rainy day activity. I think they would be appropriate for kids interested in art from seven up to twelve.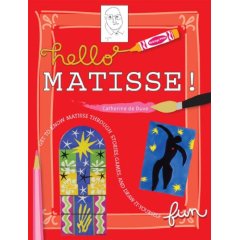 Gallery Ghost takes children on a mysterious hunt through the National Gallery in Washington D.C. Readers search the paintings for places where the Gallery Ghosts (other artists) have inserted items into the wrong paintings. This is a fun book and definitely appeals to the mystery-solver in my nine-year-old daughter, and it's also educational. In order to find the items inserted, you have to refer back to the pages which describe each artist's style. There is a scorecard at the back of the book where the reader can keep track of the number of times that each specific ghost's work appears. The ghost who has popped into the most other paintings is the one who will be rewarded by Sarah, the art student who is tracking the changes.
This would be a great book to prepare for a trip to the National Gallery or as a memento to extend the experiences from a previous trip. It would be most appropriate for nine-year-olds and up.
One reader (U.S. shipping addresses only) will win a copy of all three books. Please leave a comment if you are interested in winning and check back here in next week's column to see if you have won.
The winners of the first three books in the The Lucky Foot Stable Series are #22, Nikki, and #63 Susan Chester.