This post may contain affiliate links. Read my disclosure policy here.
On the Twelfth Day of Twitter
Lands' End gave to me
fun prizes at a Twitter party.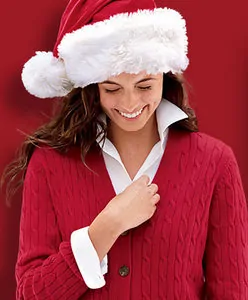 For the past 10 days, Lands' End has been busy, passing out prizes galore during their 12 Days of Twitter event.
Each day, from 12:00 p.m. until 1:00 p.m. (EST) Lands' End hosts a festive Twitter event where followers have the chance to learn about great values and answer fun questions for a chance to win more than 72 great giveaways over the course of the 12 days.

Daily themes range from great gifts and holiday entertaining tips from Every Day with Rachael Ray experts to holiday travel and home decorating.
And there are only two days left. You can join in today at 12:00 P.M. – 1:00 P.M. EST and also tomorrow – same time, same place. Tomorrow will be the very last day and we are happy to be hosting along with Lands' End, as we talk all about last minute holiday gifts. Of course there will be plenty of prizes to hand out, so you'll want to be sure to join in on the fun.
Joining in is easy:
To attend, follow @LandsEndPR and use the hashtag #landsend.
Date: Daily thru December 17, 2010
Time: 12:00 P.M. until 1:00 P.M. EST
Location: #landsend
Follow: @LandsEndPR, #landsend
RSVP
If you can make it to the Twelfth day of Twitter on Friday, December 17th, from 12:00 P.M. – 1:00 P.M. ET, please RSVP below. See you there.