This post may contain affiliate links. Read my disclosure policy here.
Give me a Clean Carpet…
I have an obsession with freshly vacuumed carpets. I love the groomed lines, back and forth, across my living room — like the lawn of a meticulously trimmed golf course.
I instantly feel calmed, as if one part of my life has order.
But. I hate vacuuming.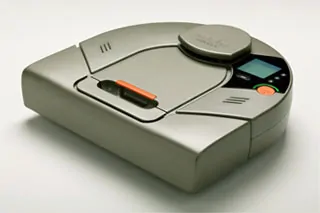 I challenge you to find a woman on this planet who would choose to give up her coveted time to vacuum.
Enter THE ROBOTS!
Yes, finally we can get some help from the promised robots!
We have wanted Rosie the Robot since we saw her on The Jetsons. It was the way of the future. It was what we were waiting for — and I am still looking for my commuter spaceship!
Now, I admit, the diminutive Neato Robotics XV-11 robotic vacuum (retail $399) doesn't quite compare with Rosie. It isn't dusting or producing breakfast on a platter. (It also isn't talking back!)
But the little machine IS taking care of a serious chore! It is a laser guided (YES people this thing is guided by LASERS! I don't think Rosie had lasers!) to not only effectively clean our floors, but it learns the floor plan to master cleaning it more efficiently! And no worries — this laser is a Class 1, which means that it is safe under all conditions of normal use for humans and pets.
This robotic vacuum isn't just bumping into walls, redirecting and haphazardly hoping to eventually cover the majority of your floors. No, the Neato Robotics XV-11 robotic vacuum is mapping out the space and getting the job done. And if it is senses it is running out of power, it immediately returns to its charging station to recharge before returning to the job. (If only our kids did that!)
Here is a short video I took of the Neato Robotics XV-11 vacuuming my son's room. To really test out the Neato Robotics XV-11, I covered the floor in crushed goldfish crackers — yes, true reality cleaning! In the end, the carpet was remarkably clean with only about five or so crumbs or pieces in different corners or along the wall that the Neato Robotics XV-11 had missed.
I know. This is serious ladies. Neato is ON to something. I mean HOW LONG have we been asking for the robots to get in here and HELP us mothers?!?
We can't get rid of our manual vacuum cleaners completely. So don't get too excited. This baby will do 95% of the job, but alas, it can't compare to a human getting into the corners. You may have to help out once and awhile.
However, as a regular helper, the Neato Robotics XV-11 robotic vacuum will keep your house looking vacuumed — it even makes those fabulous, freshly vacuumed straight lines across your room! — and significantly reduce the amount of time YOU have to spend vacuuming.
YES — let's hear it for the ROBOTS!
To win your own robotic vacuum by Neato, just leave a commment telling me what household task you would most want to automate.
You may earn additional entries for the following:
1. Subscribe to our Feed
2. "Like" us on Facebook.
3. Sign up for our Newsletter
If you are already "liking" us, subscribed and are on our newsletter list, you qualify for these these additional entries. Please remember though to leave comments for these additional entries, as your comments are your entries. Comments such as, "I am subscribed" and "I am on the newsletter list" qualify for those entries.

This giveaway is open to US continental shipping addresses and closes on December 31st. This giveaway is void where prohibited. Please see our site's terms and conditions for our complete contest rules.
Please Note: Neato provided a review sample and prizing. My opinions are always 100% my own!
Written by Janice Croze, co-founder of 5 Minutes for Mom. Talk with me: @5minutesformom and Facebook.com/5minutesformom.