This post may contain affiliate links. Read my disclosure policy here.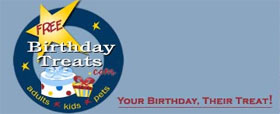 When one of our readers emailed to let us know about her mom-owned website, I thought it was such a fun idea I had to pass it on to all of you.
Free Birthday Treats.com provides free, no registration required, access to free birthday treats offered by companies nationwide.
Visitors can search locally to find free offers in their area. All you do is select your state and the site displays all the offers in your state.
Companies all over the United States have FREE goodies just waiting for you!
Even better, some of their FREE treats are good for your entire birthday month.
Kids, adults, even pets can receive enticing birthday freebies.
So when you have a birthday in your family, click over to Free Birthday Treats.com and head out to get some free food and goodies!