This post may contain affiliate links. Read my disclosure policy here.
Rattled: Surviving Your Baby's First Year Without Losing Your Cool by Trish Berg is a book that will appeal to any new mom, whether it's your first time with a newborn baby or you are bringing home your second or third baby.
This book covers your changing emotions (including sadness and anger), relationships (with your husband and your in-laws), and underscores the importance of faith, health, and friendship.
Each chapter contains a "Motherhood Survival Kit" which includes
Water from the Word are Bible verses to encourage you along your journey
Food for Thought gives tips and statistics about the first year of motherhood, such as 10 keys to a successful marriage
First Aid Kit is full of practical tips such as clutter-busting ideas
Faith on Fire offers a prayer that you can use to help focus on Jesus
Shelter from the Storm–features real-life quotes and advice from other moms
SOS (Spiritual Opportunity to Savor) is a mom-sized devotional to renew and challenge your relationship with God
Study Questions give the reader further opportunities to apply the concepts. I think it would be great to explore these questions with another new mom.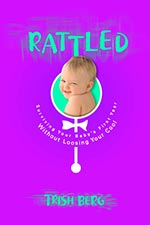 The boxes and sidebars and and sub-headings within each chapter make it an accessible read for the time-challenged new mother. The encouragement or information that you could receive in five minutes will make you turn to the book each time you need it.
Want more info on Trish Berg? Check out her website at www.TrishBerg.com, which offers tons of free resources, links, and downloads for moms as well as more information on other books and ministry.
If you'd like a copy, leave a comment here to enter to win one, or click on through to order your own!
The winners from last week's columns are:

123 I can Paint!#75 Valerie Mitchell

123 I Can Draw!#29 Bree

123 I Can Make Prints!–#85 Beth Kuligowski

The Lady of Milkweed Manor — #73 Nancy

You should have an email from me requesting your address. If you didn't get one, please contact us with your name and address.