This post may contain affiliate links. Read my disclosure policy here.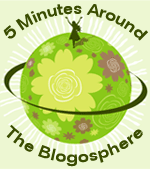 CONTESTS & GIVEAWAYS
Stop by An Island Life where you could win a nursing cover in your choice of fabric from PeekaBooBaby. Deadline is January 14th.
Over at An Island Review, I'm giving away a BOB Screentime Controller (value $99). To enter, just leave a comment on the giveaway post saying how many hours your family spends watching television daily.
Manic Mommy is giving away a cash prize for a very worthy cause – The Blood Bank . Just submit a photo of you donating blood, holding your blood donor card at the Blood Center, or the date you donated and you could win! The more participants the higher the cash prize. You have until January 30th to be included in the random giveaway.
We all know how good water is for you. Well, Workout Mommy is giving away a Brita faucet-mount filter and a reusable FilterForGood bottle to one lucky winner. Stop by her site before January 15th for all the details.

If you love Boon products, you're in luck. sassyfrazz is giving away a Groovy – Interlocking Plate and Bowl Set to one lucky winner. To enter, just leave a comment on the giveaway post before January 17th saying what your favorite Boon product is.
If you're looking for a great book to read, Healing Little Heroes is giving away a signed copy of Sammy's Soldiers. Just leave a comment on the giveaway post before January 30th and you're all set!
Overwhelmed With Joy is holding her monthly Pay It Forward Book Exchange. She has three books available and if you wn one of them all she asks is that you give it away once you're done reading it. Stop by before January 19th for all the details.
Win a pair of BabyLegs just in time for the winter cold. Mama K NJ is giving away a pair of organic cotton pair of BabyLegs to one lucky winner. To enter, just stop by Non-Toxic Tots and check out all the different prints. Then go back to the giveaway post and mention which one is your favorite. You have until January 25th to enter.
"Families from across America are invited to vie for the chance to be crowned National Cookie Champions at a live "Cookie-off" event in New York City and win a $10,000 U.S. savings bond! From now until January 31, 2008, submit your tastiest and most extreme cookie recipe with your child (age 5-15). Entries will be judged on a variety of criteria including taste, originality and appearance. Five talented parent and child teams will be selected as finalists to be flown to New York City to compete in the "Cookie-off" in April 2008." You could win a $10,000 savings bond!
I definitely need this book at times – ScreamFree Parenting by Hal Edward Runkel. To win a copy, stop by Lookit! I Spy . . . before January 16th and leave a comment letting them know you'd like to enter.
A Frog In My Soup is giving away a Vanilla Travel Set from Sweet Pea Cakes and you're all invited to participate. To enter, just leave a comment on her giveaway post. Deadline is January 22nd.
Blonde Mom Blog is giving away a hip outdoor portable playmat from Gobaby.com valued at $60. Stop by her giveaway post before January 18th for all the info and a list of future giveaways to come!
There's always something going on at Close to Home. This time they're giving away a Land's End Diaper Bag in either a pink or blue design. To win yours, just leave a comment on her giveaway post before January 14th.
Mommy Bytes is holding a Pay It Forward for Valentines Day. Basically, she won a handmade gift a while ago and would now like to return the favor. She's giving away some very cute knitted hearts made by her to four lucky winners. To enter, just leave a comment on her post before January 24th letting her know which color you prefer.
NEW SITES
If you have your own online boutique and would like to promote your products, this is for you. MomMakes.com is a brand new site dedicated to helping spread the word about your business. All you need to do is provide them with the
pictures, descriptions, and prices and they'll do the rest. It's a free service so you have nothing to lose. Go check it out!
There's a brand new online magazine for all you homeschoolers out there. Check out The Heart of the Matter.
A whole bunch of cool Mommies have gotten together and started a site for all those environmentally conscious consumers out there. It's called Green Mom Finds and they're dedicated to bringing you the best in safer, eco-friendly alternatives for you and your family.
GREAT DEALS
Starting tomorrow till the end of the month, momAgenda is offering everyone a 40% discount on all their dated products. To take advantage of this amazing deal, just use the code "islandmom" during checkout.
Eat Better America – designed for people who are increasingly interested in the impact food has on their health and crave simple, easy-to-understand health and nutritional information – is offering everyone free samples of Fiber One Cereal. Claim yours today!
Download your free copy of the ebook What to Expect Guide to a Healthy Home.
I have no idea who the Planet Heroes are but you can order the DVD for free! I ordered one and the only downside is that it took a long time to arrive. But hey, it's free!
Sign-up at Consumer Village by taking a short survey and be eligible for future participation which could earn you points that can be converted into Amazon.com gift certificates. Thanks to Almost Somewhat Positive for the tip!
Sign-up to receive a free 32 oz. bottle of Clorox Clean-Up Cleaner with Bleach.
ANNOUNCEMENTS
Join the Snackalicious Super Dishes recipe round-up happening at Pensieve on January 25th. To participate, just post your all-time favorite tail-gating recipe on your blog. A Mr.Linky will be available on the big day so you can share your culinary skills with the blogosphere. In addition, there will be some cool cookbooks available to win. Stop by Pensieve for all the details.
If you would like to have a post on your blog featured in 5 Minutes Around The Blogosphere, please send us an email at features5minutesformom at gmail dot com and we'll see if it can be arranged.
Kailani can be found at An Island Life and An Island Review.