This post may contain affiliate links. Read my disclosure policy here.
I made a new friend this week. Her name is Julia Einstein, or depending on how literal you want to get, author Laura Zigman who created her. Laura Zigman herself claims that she writes "thinly veiled autobiographical fiction," so I think it's a fairly safe bet that if I enjoyed the character, I would relate to the author.
Julia Einstein is forced to go back to work as a celebrity publicist when her husband loses his job. She has to quit the job she's come to love–that of full-time mom to her three and a half year old son (just like mine–similarity #1 to my own life). After first resenting the idea that she must go back to work, she begins to remember what she enjo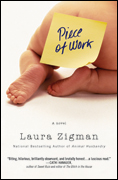 yed about life beyond the scope of playground politics and Thomas and all of his friends (similarity #2–she even mentions Mavis and others by name). What's more, her husband seems to enjoy his work at home, and actually seems to excel in some of the areas where she has fallen short as a homemaker (similarity #3??). At the risk of sounding odd, I won't mention that my heart sort of skipped a beat when she mentioned the delicious (and inexpensive) rotisserie chickens from Costco (#4).
I read Piece of Work in a few short sittings. It was clever, light, and real. I enjoyed getting to know and like this character. It's not often that I come across characters who are real and likeable. It was a pleasure to read about a good marriage–not a perfect one, but one in which mutual love and respect flourishes. This real mom admits that she likes the flexibility of being a stay-at-home mom, but when needed, she also demonstrates that she still has what it takes to be a success in the workplace.
There is a reading group guide available which provides some thoughtful questions about the role of a mom, some great get-to-know-you questions about past work experiences, and some fun questions about celebrities. For more information about the author, check out her website and blog at LauraZigman.com.
We have three copies to give away (to U.S. or Canadian addresses), so please leave a comment if you are interested in winning. We'll announce the winner in next week's column. The winners of last week's book How Strong Women Pray were announced in the New Habits for the New Year giveaway post.