This post may contain affiliate links. Read my disclosure policy here.
Wow! The end of September already! That means that many of our kids have been in the 'back-to-school' routine for more than a month now and the honeymoon period of new clothes, new classes, and new friends is coming to an end. That also means that our families are now knee-deep in the busyness of life!
With school activities, sports, and fall events in full swing, time becomes very limited and something needs to "give" from our hectic schedule. Most often that thing that gets pushed out of our schedules are home-cooked meals. Let's face it, it's just too convenient to grab drive-thru as we go from one event to another or to just grab a pizza on our way home. Even if we do get a chance to make a home-cooked meal, it often ends up that everyone is eating at different times! *Sigh*
Thankfully Pyrex understands this dilemma and has created an amazing line of glass storage containers that allows you to easily take your home-cooked meals with you anywhere you like!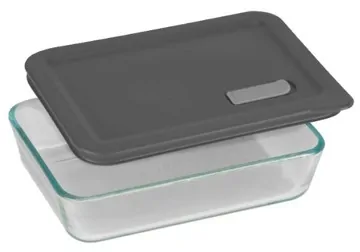 The Pyrex® No-Leak Lids™ Storage system features a leak proof and air tight seal making the containers so convenient and safe to take with you on the go! No need to worry about messes in the car as you travel to and from those afterschool events! Each of the lids also feature a handy vent for microwaving that makes reheating a snap!
Even if you're not a family-on-the-go, you'll still love the Pyrex® No-Leak Lids™ Storage containers for their square and round shapes! If you're limited on kitchen space like me, you'll definitely appreciate how easy it is to store or stack the Pyrex® No-Leak Lids™ Storage containers, leaving your shelves and refrigerators nicely organized!
But here comes my favorite things about the Pyrex® No-Leak Lids™ Storage containers — the varied sizes and clear glass! The clear, nonporous glass means that I'm not wasting time searching the containers in my refrigerator for a specific meal. I can quickly grab what I need, reheat it, and be on my way!
The varied sizes also make it super easy to take appropriate sized portions with me when we need to eat dinner on the go. I certainly don't need to take a 7-cup dish for the bowl of soup my daughter is planning to eat while she waits for her sister to finish gymnastics glass. Instead I can take the smaller 2-cup round dish! The Pyrex® No-Leak Lids™ Storage system offers 2-cup, 4-cup, and 7-cup round and 3-cup, 6-cup, 11-cup rectangle. Truly giving you a size for any need!!!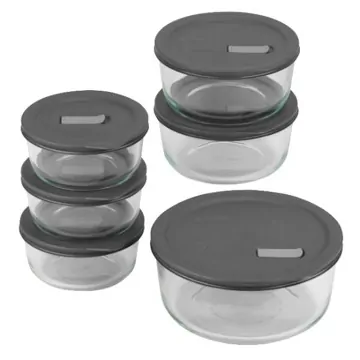 Our Pyrex® No-Leak Lids™ Storage containers will definitely be put to use more and more as our busy Fall schedule picks up and I'm already planning out ways I can use them to pre-make meals and store leftovers when baby #3 comes this Winter!
Now that you're in love with the Pyrex® No-Leak Lids™ Storage containers, you'll definitely want to check out the complete line of Pyrex products! After all, Christmas is less than three months away!!!
Wouldn't you just love some new Pyrex products for your kitchen? I thought so! We are giving away an amazing gift bag with a variety of Pyrex kitchen products, including some of the Pyrex® No-Leak Lids™ Storage containers!!! To enter, simply leave a comment below. This contest closes October 15 and is open to both US and Canadian addresses. Please see our site's terms and conditions for our complete contest rules.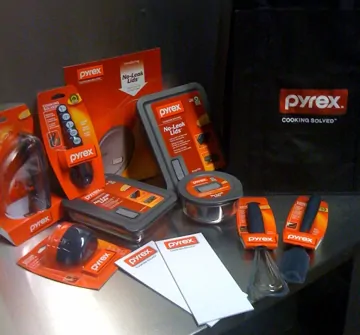 Thank you to Pyrex for providing myself and our winner with these great kitchen gift bags!