This post may contain affiliate links. Read my disclosure policy here.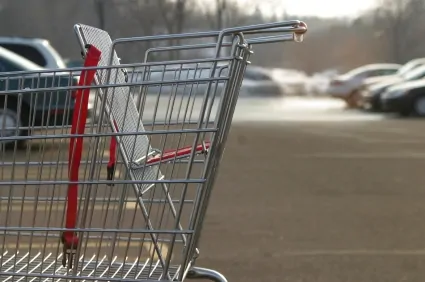 Okay, I think I might have issues, no really. Today I did something crazy, but that's not the worst part. The thing is this crazy thing, I did it once before several months ago. Only that time there was a happy ending and I laughed it off. This time, I was brought to tears – sad, woe is me, pitiful tears.
This morning we were out of milk and my boys desperately wanted bowls of cereal for breakfast. I did need to get additional groceries as well, so we headed to the store. It was actually a pretty calm trip, which can be rare when bringing along two kids under the age of five.
As we pushed our cart of groceries to my Blazer, however, my two-year-old had a complete meltdown. I think he woke up a tad early this morning, and he is NOT a morning person. I sat the cart by the back of my vehicle and attempted to get my fussy two-year-old into his seat. But he wasn't having it. He was kicking and screaming. He thrusted his tired body all over the floor of the Blazer.
I finally got him into his seat, but then he did that thing that fit-throwing two-year-olds are notorious for, he arched his back and scooted his body down. This made buckling him in quite difficult. But I finally won the power struggle. Worn out and hungry, I got into the driver's seat and drove home.
Once home, I ran to the back of the Blazer to unload the groceries and realized that I had never loaded them. No I had driven away, leaving them in the cart in the parking lot.
And yes, I had done it once before, several months ago. I was infuriated with myself. I could NOT believe I once again left my groceries in the parking lot.
So we headed back to the store, which really set my two-year-old off. He was so confused. Poor guy.
The last time I left my groceries in the parking lot, a nice person brought the cart back into the store and I was able to retrieve my purchases at the customer service desk.
This time around I wasn't as lucky. I found my cart, it was still there near my parking spot, but it was empty. Nobody had brought anything into the store. Somebody took my groceries!!!!
So, the boys and I headed back into the store one more time. This time only grabbing the essentials. Sigh!
So, please make me feel better and tell me that you too have once left your groceries in the parking lot. Help a mama out.
Written by 5 Minutes for Mom contributing editor, Erica.