This post may contain affiliate links. Read my disclosure policy here.

Project to Tackle: Freezing Berries
I blew it. In June, I planned to freeze 50+ lbs of strawberries for a Tackle It post. BUT, I procrastinated. Instead that week I think I cleaned my van. Like I am going to be grateful about that come the fall and I am buying sub par, overpriced, frozen strawberries! (Although I must brag that my van is still clean. Yeah me!)
But I thought, "No worries, I will do it on the weekend." And on the weekend I thought, "I still have one week before the end of strawberry season and I need to finish this newsletter. I will do it Monday and post it for Tuesday's Tackle."
Yes, you guessed it. Monday there were no berries left. None. Not one little scrumptious berry in the entire city. And believe me I looked. Well, actually I got my husband to look. It was a holiday here that day and I sent Jackson and him to scour our local berry markets and stands.
You see, we had been having unusually nice weather. Lots of sun.
Sun + procrastination = no berries for Jan
Now to get the full appreciation of this tragedy, you must understand two things. First my husband and I really love berries. And we go through a ton of them. Lots of smoothies and I use them on cereal, deserts etc. Second, our local fields produce the yummiest little strawberry bombs of flavor you have ever tasted. To not have them all year is true suffering. (Yes we were getting fat like summer bears on them, but I didn't stop popping them in my mouth long enough to do my annual freezing.)
However, all is not lost. Once I got home from camp, I still had some time to get the last of the raspberries and to go crazy on the blueberries. (We have killer raspberries and blueberries too. I mean really good.)
So, this weekend my hubby and I we were a washing and a freezing. I freeze on cookie sheets and then put in bags after. Tonight I bagged the last of them and then hauled the others out for a photo. Only a blogger can understand dragging 70+ pounds of fruit out of the freezer for a photo!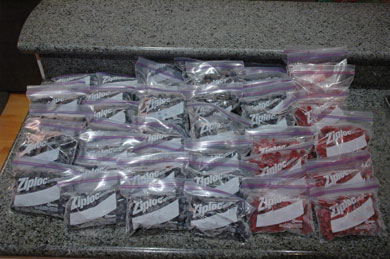 I still may do more blueberries and I wish that I had more raspberries, but I am grateful to have as much as I do. And if you think I have plenty – let me tell you, we will be lucky for those to get us through to the winter. My hubby loves his protein smoothies with some berries and I use blueberries in my porridge.
So what did you tackle this week? Let us know and join the party.
We are making housework blog-able!
Join Us For Tackle It Tuesday

Each week on Tuesday, we are posting before and after pictures of a project or trouble area that we tackled this week.

I will link to any of you who are also playing along, so add a comment and/or email me. Find out more about Tackle It Tuesday here.

The project can be little or big – whatever you want. Basically, Tackle It Tuesday is about giving ourselves incentive, deadlines and satisfaction in getting our household tasks done.