This post may contain affiliate links. Read my disclosure policy here.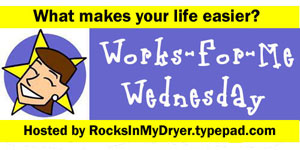 Low Fat Summer Treat
This tip is not inspired, creative or unique. But it totally Works for Me!
So in celebration of what works for me, I present my tip on indulging without indulging.
If you read my Tackle It Tuesday post yesterday, you know that I love, I mean really love, berries. I also really love whip cream. Berries and whip cream – oh.my.word. But that would just get ugly pretty fast.
So I am a Cool Whip gal. Yes my mother was horrified when she first saw me pull out a tub from my fridge, but now even she eats it.
As I type this, my lips are still sticky sweet from my fresh peaches that were covered – completely – in Cool Whip.
By the way, I suggest the Light or Ultra Low Fat. They both taste great and so I have never even tried the regular. I think I remember Rosie saying on her show years ago that Cool Whip is 0 points of the Weight Watchers scale. But I wouldn't know. All I know is it is an indulgence without the guilt.
So slather it on girls – and turn your fresh fruit into dessert. (Don't you love the free advertising we do on these WFMW posts. Good grief – when do we get our checks from these companies?!?)
For more great "Works for me Wednesday" tips, visit
Rocks In My Dryer